Yesterday morning, Kathryn and I committed ourselves to getting out of the apartment early and doing a road trip two hours to the north, to a canyon we had never seen before. After several confusing turns getting out of Montpellier with the awful navigation system in our rental car, I finally pulled into a gas station and put the destination, Gorges du Tarn, into Google Maps on my phone.
I was given a choice of three routes. Right away I noticed that one of the routes would send us over the Millau Viaduct. I've watched documentaries on the construction of the bridge, which is considered something of a marvel of modern engineering. Obviously that was the route I was going to take.
One destination was now two.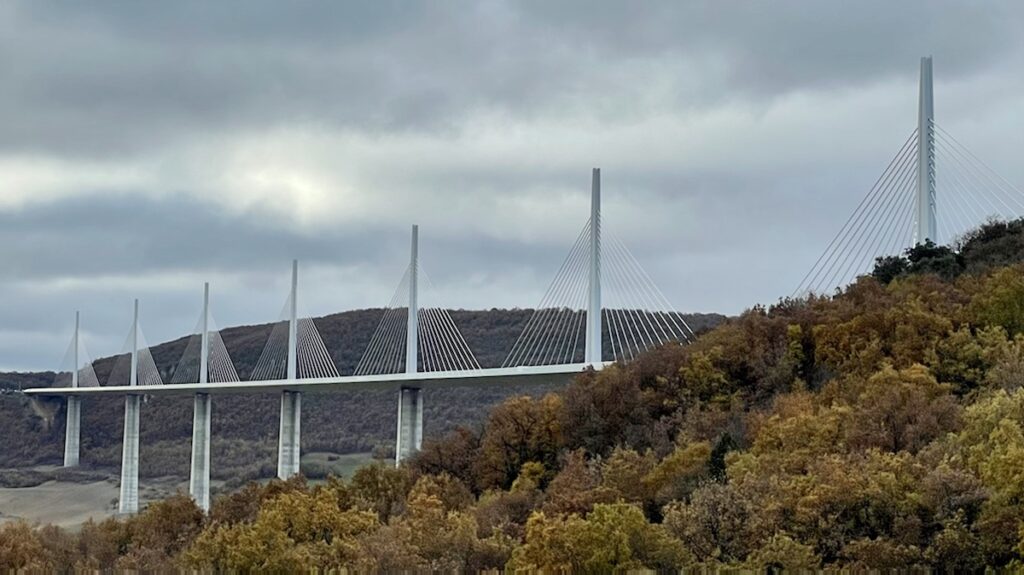 After about an hour of driving, well before we got to the bridge, I was ready for a rest stop and a coffee. Kathryn decided to have a look at the postcards in the shop. One particular postcard of a waterfall caught her eye, and she asked if it was something we could see during our trip. I plugged the waterfall, Cascade de la Vis, into Google Maps and discovered that I'd already marked it as a potential sightseeing destination even before we'd left the U.S. It wouldn't be far out of the way to see it on the way back to Montpellier.
Two destinations were now three.
When we reached the Millau Viaduct, we started looking for a place to pull over and take pictures. Apparently the designers of the bridge had read our minds. They built a parking lot and visitors center with a beautiful view, just on the north side of the bridge. We stayed just long enough to snap some photos. The turnoff to Gorges du Tarn was the next exit from the autoroute.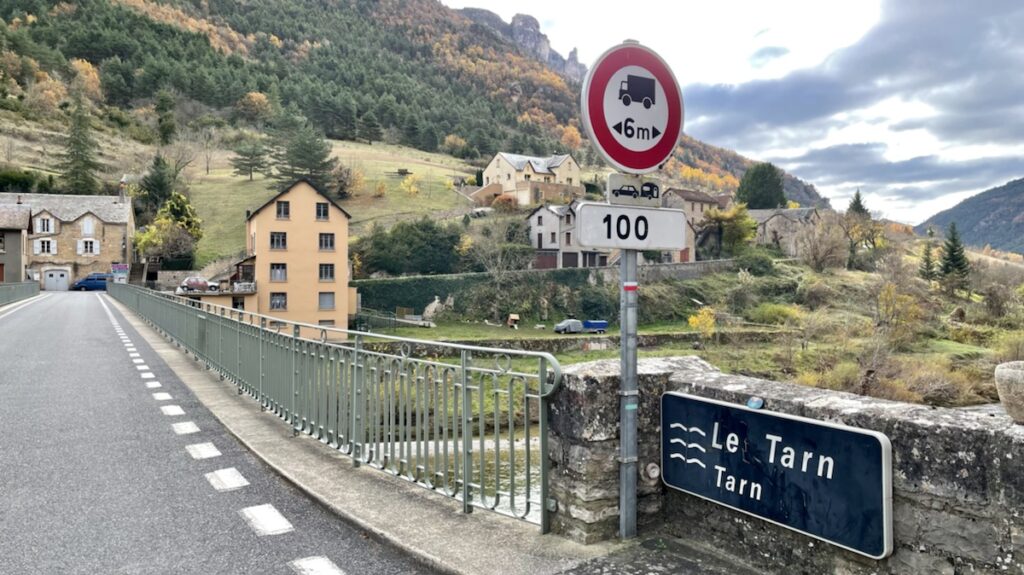 I'd seen some photos of Gorges du Tarn, but I wasn't sure what to expect. It wasn't so much a single spot as it was a scenic drive through the canyons carved by the Tarn river. It reminded me a little of Oak Creek Canyon in Arizona.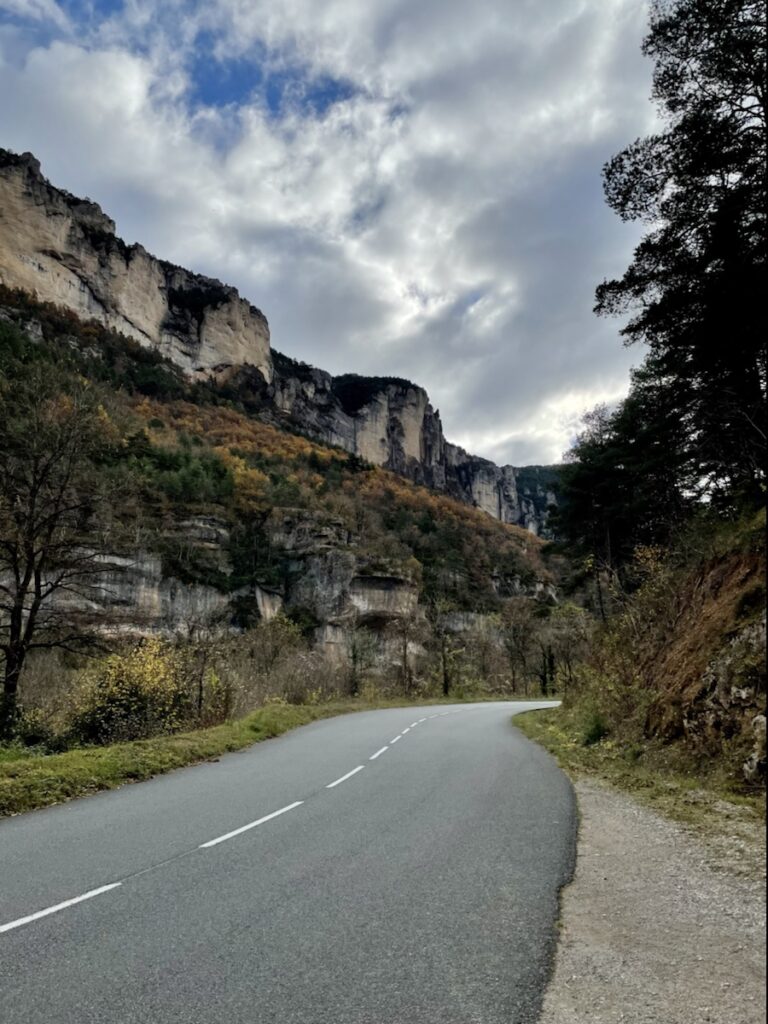 The roads were very narrow and winding. Although the speed limit was theoretically 80 km/h, I rarely drove faster than 50. There were spots where we had to stop for oncoming traffic because the road wasn't wide enough for two cars side-by-side.
After we left the Gorges du Tarn area, we turned off in the general direction of Cascade de la Vis, but Kathryn and I were both starting to get hungry. The area seems to be a seasonal destination, and that season definitely doesn't include November.
When we finally arrived in a village that showed a sign of life, we stopped into the only open business, a bakery, just a few minutes before their two-hour lunch break. The shopkeeper asked what I was looking for, and I said I'd eat anything. Unfortunately, they had just sold the last loaf of bread, but they had some picnic supplies, most of which would have gone better with a loaf of bread. We settled on a box of cookies that looked like miniature peanut butter and jelly sandwiches. As we were about to pay, the shopkeeper offered us a sample of a sweet almond bread, apparently a local specialty. Good move on his part, because we bought one, more than doubling the sale.
While Google Maps certainly found us the shortest route to our next destination, it was apparently the proverbial road less traveled. The roads went from challenging to scary quite quickly. It looked like there had been some recent heavy rains, and in some places the side of the road had been washed out. Three times we had to stop while heavy construction equipment was moved out of the road to let us pass. I started thinking about the damage waivers I'd declined at the rental car counter.
When we finally returned to something resembling a main road, I noticed an athletic field with a banner for a team named Mont Aigoual. The name rang a bell. Mont Aigoual is one of the highest points in the region, and because it has an observatory at the top, it has a road that goes all the way up to it. I pulled over, checked Google Maps again, and realized the mountain was only about fifteen minutes out of the way.
Three destinations were now four.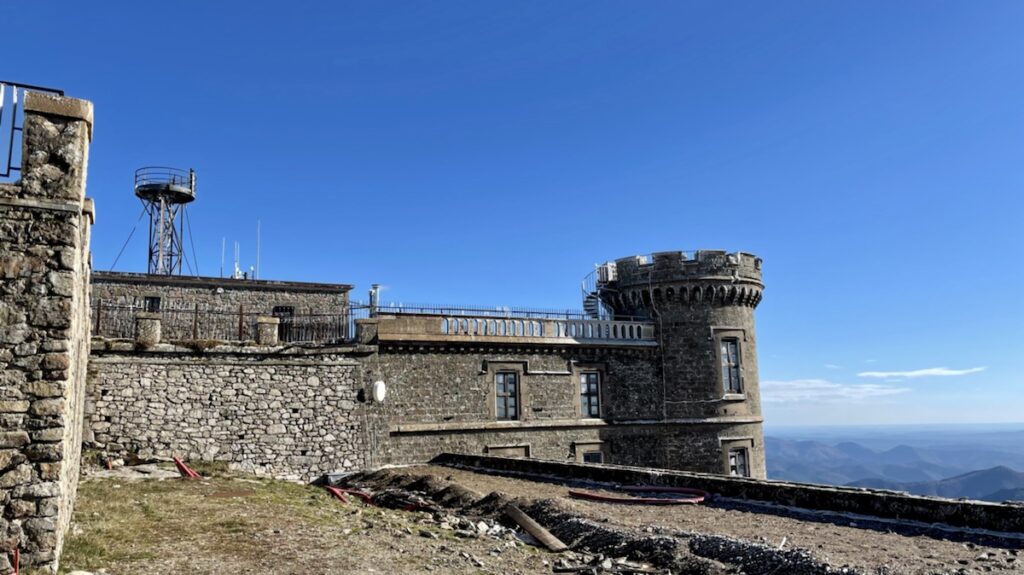 We braced ourselves for it to be cold when we got to the top of the mountain, and it was. Ice had formed on the tops of trees and was breaking off in the wind, dusting the road with ice crystals. It was a few degrees above freezing and windy. We were bundled up warm enough except for our hands. Neither of us had brought gloves, so our hands only came out of our pockets long enough to take photos. We walked around briefly before returning to the shelter of a warm car.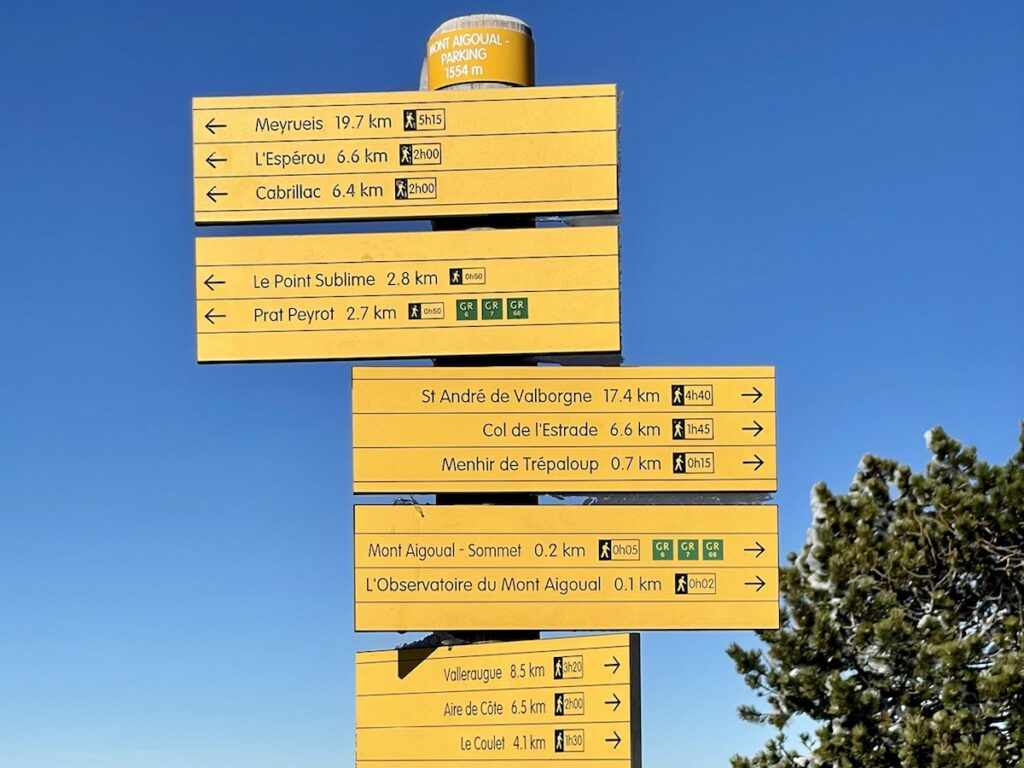 We almost didn't make it to our next destination. We were supposed to turn right and cross the river at Ganges, but when I saw a road closed sign and heavy construction equipment, I continued straight, then promptly got lost on some narrow village streets. After reorienting myself by going what was probably the wrong way down a one-way street, Kathryn convinced me to go back to the "road closed" sign and have another look. It turned out the road was closed, but the closure was just after the next turn. We could get where we were going.
About fifteen minutes later, we finally arrived at the waterfall, Cascade de la Vis. It wasn't clear where to park, so we pulled into the private lot of a snack bar that wasn't open, which is what other people appeared to be doing. There were a couple people nutty enough to be swimming just below the falls. Kathryn and I had left our swimsuits back at the apartment, so we just took photos.
At this point, it was almost 4 pm, and I hadn't had anything to eat since early morning other than the few cookies and the almond bread. When we got back to Ganges, we stopped in supermarket and picked up some packaged sandwiches. I always call them "triangle sandwiches" because they're cut and packaged diagonally like triangles. They're never great, and they're probably not very nutritionally complete, but when you're hungry and the restaurants are all closed, they get the job done.
The route from Ganges to Montpellier was well trodden, and we were back in the city center in a little over an hour. What started out as about four-to-five hours of driving turned into more than seven, but we checked off a lot of boxes we didn't even know we wanted checked.
It was a good day.