This year was the first time in many years that I wasn't scheduled to work on Martin Luther King Jr. Day. Unfortunately, I didn't find out about this change in my client's company policy until just a few days before the holiday.
By then, it was too late for Kathryn to get the day off too, and I had already committed to serving at church during the morning Mass. Still, we did manage to get out of town for a few hours when she finished work for the day. We also made plans to take a day off together the following Monday.
We've recently been doing a lot of two-to-three-hour hikes here in Phoenix on the weekends, so we thought we'd use the day off to do something a few miles longer and bit more challenging. Looking at one of the Arizona hiking websites, we decided to try hiking to Skull Mesa. The trailhead is about a half-hour from our house, and it should have been about a three-hour hike each way. The reward of a panoramic view of Phoenix sounded pretty nice too.
What we didn't count on was the weather. It's been a relatively wet ten days in the Phoenix area, and one of the wettest ended up being the day we planned to hike. With a forecast of as much as an inch of rain and wind gusts of up to 40 mph, there didn't seem to be a lot of upside to spending a day hours from shelter.
We were defeated before we even left the house.
The day wasn't a total loss. A volunteer at church canceled at the last minute, and I was able to jump in to help out. Later, Kathryn and I did some shopping that we'd put off for too long. We also committed to trying the hike again this weekend.
The rain continued on and off during the week. The forecast was for a sunny day today, but only after downpours late in the day yesterday. We decided to take our chances, knowing there was a possibility it might not work out.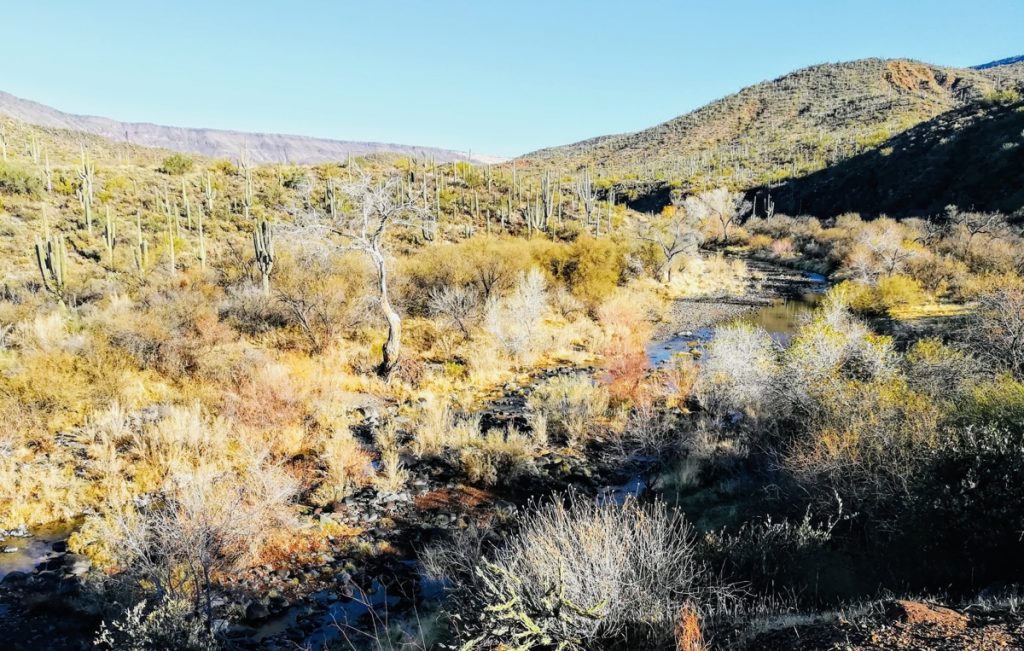 We set off from the trailhead at Spur Cross Ranch a little after 7 am. Within a few minutes of hiking, our shoes were caked with mud. Living in the desert, we're not used to seeing much on our shoes other than dust, but we figured as the sun came up and the day went on, things would dry out.
Eventually we were able to hear the sound of rushing water in Cave Creek, even before we could see it. When we did see it, we were simultaneously breathtaken and disheartened. It's not often we get to see a creek with rushing water so close to home, but we knew we were going to have to cross that rushing water and back — twice — in order to continue along the trail up to Skull Mesa.
Luckily, due to a combination of an excellent vantage point and a bit of a late start, we were able to see some other hikers already crossing the creek below us. Suddenly it didn't look so daunting. We pressed on.
More mud, more crossings, and about an hour later we had crossed Cake Creek and back a second time, which I thought would have put us near the turnoff for the trail to the mesa.
However, something didn't seem right. I pulled out a paper map we had picked up near the trailhead, and I noted a landmark just in front of us that I thought was supposed to be well behind us. We walked a little further and saw the creek in our way again.
Everything I'd read, including the map in my hands, indicated the trail crosses the creek and back twice. My only guess was that, somewhere behind us, the heavy rains had washed out part of the trail on one side of the creek bed, forcing us into an extra pair of crossings.
The crossing in front of us was going to be more challenging than the earlier ones, and after a few attempts, Kathryn lost any confidence in being able to do it. She had already tweaked her back a bit on one of the other crossings, and was mindful that every crossing she made in one direction was going to be one she had to make again in the opposite direction later in the day.
We were defeated once again.
Still, like earlier in the week, the day wasn't a total loss. We were treated to views of a saguaro forest unlike any we'd even seen before, the sight of a flowing creek through the desert, and a drive through ranch lands we'd lived near for decades but never seen.
In any event, we'll be back. Third time's the charm, right?