Third time's not always the charm, it seems.
Yesterday morning, Kathryn and I once again attempted to make the long day hike up to Skull Mesa. The weather was perfect — sunny and dry, but also relatively cool. The thick mud we encountered the previous Saturday had dried out, but Cave Creek itself had not. This time we brought along our trekking poles, which made the numerous creek crossings a bit easier as we skipped from rock to rock. The little bit of moisture that did get through our shoes dried quickly.
One unexpected turn of events was the presence of a fifty-mile desert trail race that was taking place on some of the same trails we were using. These folks were moving fast, but at the same time they were relatively relaxed about us being in their way. We moved over whenever we heard them approach, and despite all their competitive focus, we still heard a polite thank-you from nearly every one of them.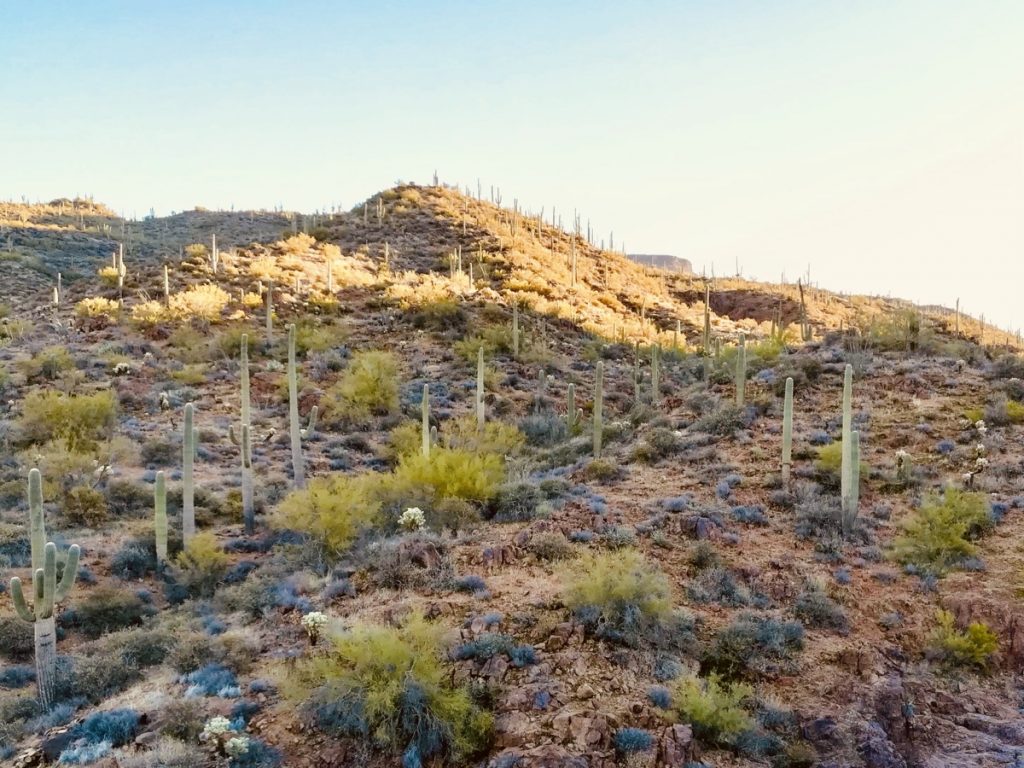 After about two miles, the outbound race trail split off. Although we were heading outbound on their inbound trail, given the length of the race, we didn't expect to see any of them again. Until that point, we had mostly been following along a creek bed, which meant we were on more-or-less level ground. From there on, the trail started moving perpendicular to the creek, making it largely an uphill climb.
After another hour or so of hiking, we found what would be the last flowing water we'd see — at least until we passed the same spot on the way back. From what I've read in trail reports, this unnamed creek, which may be sourced by an unidentified spring, is dry much of the time. Although there wasn't much more than a trickle, it was enough to sustain a tree that provided some shade for us to stop and have a snack. It turned out we wouldn't see much more shade later either.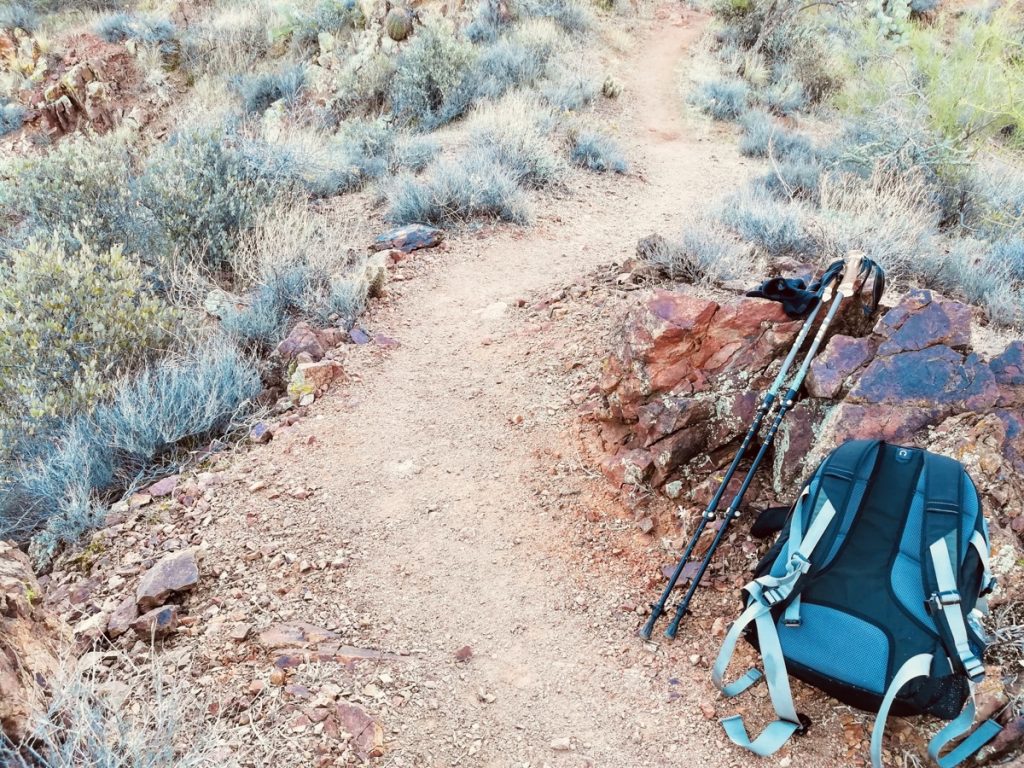 The tiny creek being another low point, we continued our ascent for about another hour-and-a-half until we reached the junction between the current trail and the one that goes up to Skull Mesa. At this point, the mesa no longer seemed so far away. However, while the current trail was considered moderate, the next was considered difficult.
This was a decision point for us. We took a five-minute break and decided at least to give it a try. I think Kathryn's exact words were, "I don't want to have to come out here again."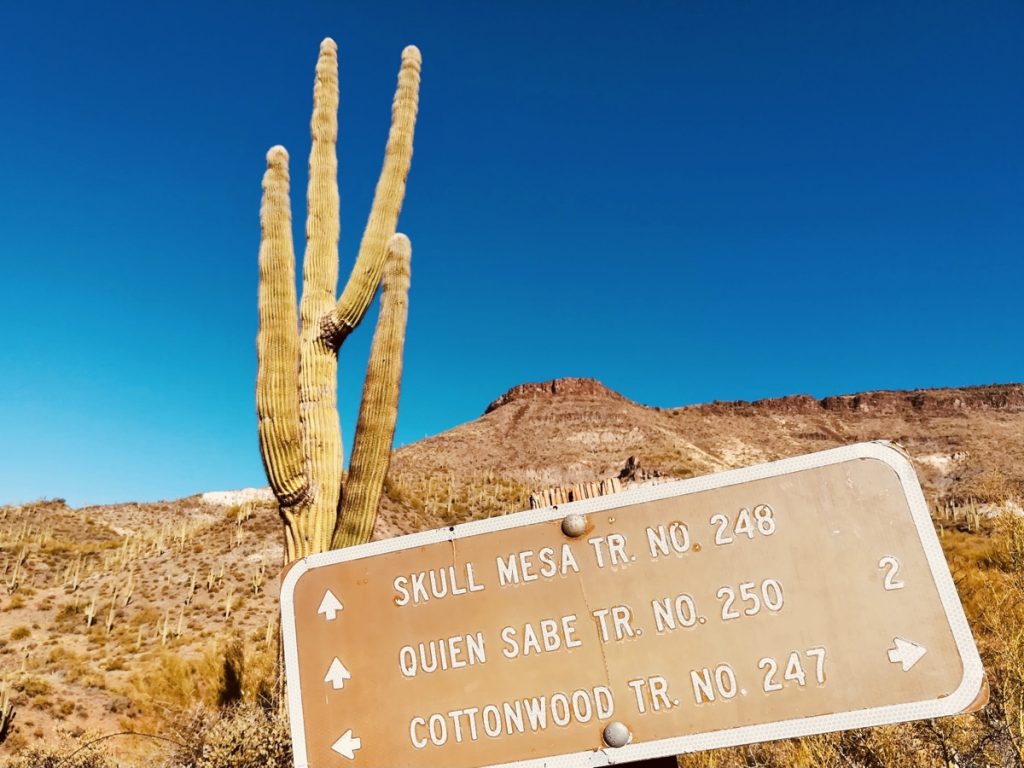 We proceeded up the trail. It was steep, rocky, and poorly defined. We were both quickly reaching our limits, but finally, at one turn, I was the one who started to feel lightheaded. That's only happened to me once before while hiking, over a decade ago, and it was because I hadn't eaten enough. We stopped and rested for a while, and I ate half the sandwich I'd been saving for the summit. I felt better almost immediately, but between Kathryn's exhaustion and my dizziness, we lost our confidence in continuing. We were four hours into the hike, all steps we had to retrace.
So we turned around, just a half-mile from the top of Skull Mesa.
The good news was, at this point, we had taken a lot more steps uphill than downhill. Although there were low points in the return trail that we'd have to climb out of, by and large it was a descent.
By the time we got closer to Cave Creek again, some of those fifty-mile trail racers had actually managed to catch up to us. I'm almost sure I saw at least one that had passed us earlier. I checked the race website this morning, and it looks like their trail looped around Skull Mesa rather than climbing up it.
When I wished one of the racers a good day, his reply was, "I'm dying, man!" The race did look awfully grueling.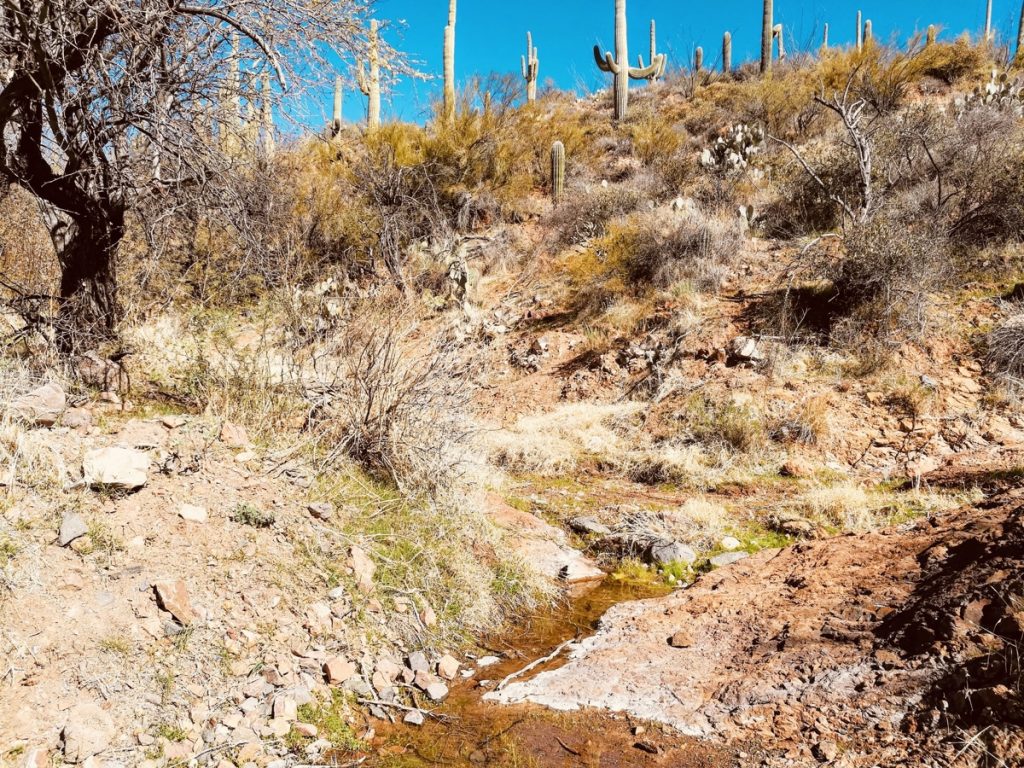 Fortunately, the four hours we'd hiked away from the car took us only two-and-a-half hours on the return.
If we ever try this again — I hope we do, although I don't know if Kathryn would agree — I'll eat a much, much bigger breakfast. I had two tablespoons of fried egg whites with small slices of ham and cheese on a single piece of whole wheat toast. That's a perfect start to a day of sitting in front of a computer screen, but entirely inadequate for a day of hiking. I'll also take more breaks and eat a snack at each one. Finally, I'll bring more water, perhaps twice as much. Although I didn't run out of water during the hike, I finished what I brought as soon as we back got to the car. I probably would have drunk more if I'd had it, and I would have been better off for it.
After getting back to the car and making the half-hour drive home, Kathryn went out to get us an order of carne asada fries from the local Mexican take-out place. It's probably a more-than-two-thousand-calorie dish, yet we inhaled it in about five minutes, stopping only occasionally to chew. In retrospect, it's probably what we should have eaten for breakfast.