The flight from JFK to Paris on Sunday left over an hour late. It wouldn't have been a big deal, but we were already facing a relatively short connection at Charles de Gaulle, and any delay made it shorter.
Despite the promise to make up some of the time in the air, by the time we disembarked, we had less than 30 minutes to make a connection that, according to the monitors, was a 35-minute walk away. All we had to do was get through a security checkpoint, have our passports controlled by police, and hop on a light rail train to another terminal.
Long story short, we made the connection — sweating. It wasn't entirely a surprise. In the history of Air France, I doubt the flight from Paris to Montpellier has ever departed on time. It's naught-for-five in our experience. However, unlike the flight from New York, the actual flight time is considerably shorter than scheduled, so we did arrive more-or-less on time.
Although we made the connection in Paris, and so did Kathryn's suitcase, my suitcase did not. We approached Air France baggage service, which apparently was already aware of the problem. They couldn't make us any promises in Montpellier until they knew the bag was loaded in Paris. The next flight would depart in about two hours.
If we had known for sure the bag would be on that flight, we would probably have just hung out at the airport and waited. Instead, we got a ride to Montpellier and checked in to our apartment.
After dropping off the baggage that wasn't lost, we went for a walk around the city center. At one point, it occurred to me that I should take my phone out of silent mode in case Air France called. Just a few minutes later, they did. Luckily, it was one of the few times I've had a telephone conversation in French where I had any idea what they were saying. My bag was on the way, and I could pick it up before 10 pm — surprising for a Sunday.
Another ride out to the airport, and we got my bag quite quickly. Then back to the apartment, and a mad dash to church. It was Sunday after all, and we still hadn't been to Mass. Two attempts to get an Uber failed, and the half-hour we had to make a four-minute car ride became 13 minutes to make a 15-minute walk.
If Mass were in the United States, we would have been late. Alas, this is France, and we could have stopped for a smoke first. Anyway, Sunday obligation fulfilled.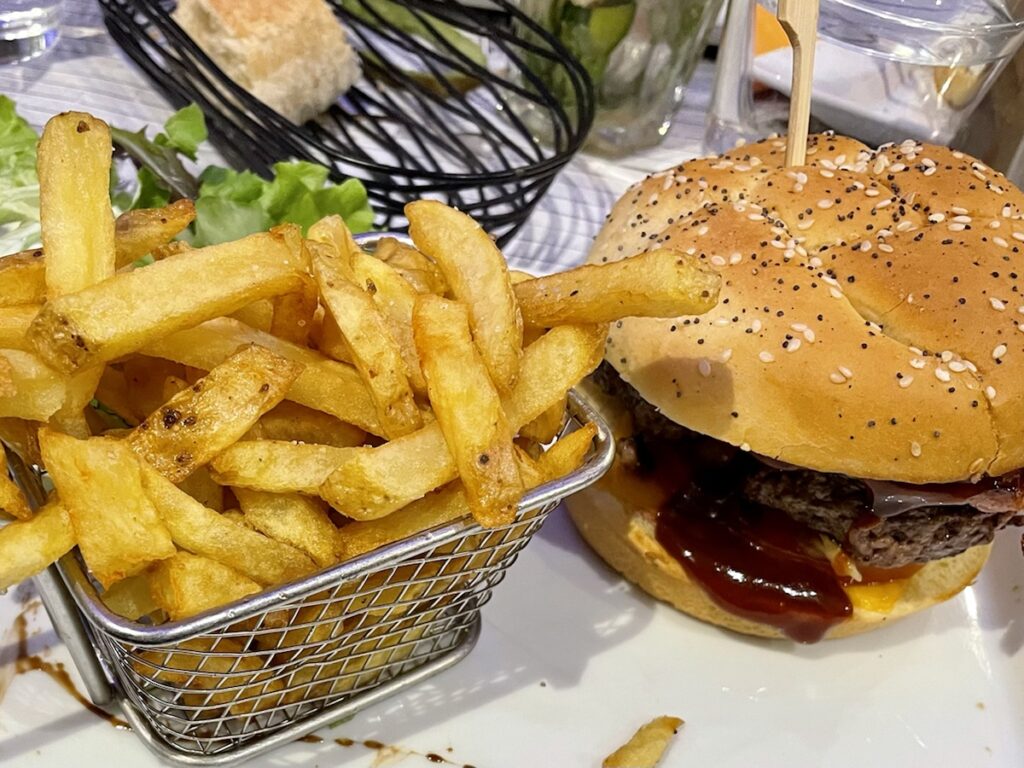 After Mass, we opted for public transit and took the tram back to the city center. Considering our choices, we decided to try the burgers at a café-restaurant that was, twenty years ago, my parents' favorite breakfast spot in Montpellier. No complaints from us. We hadn't had a proper meal since we left the SkyClub at JFK.