There's no sugarcoating it. Friday was a challenging day — certainly physically, and to a certain extent also mentally.
While it wasn't raining when I got out of bed Friday morning, it was clear I wasn't going to see the sun much.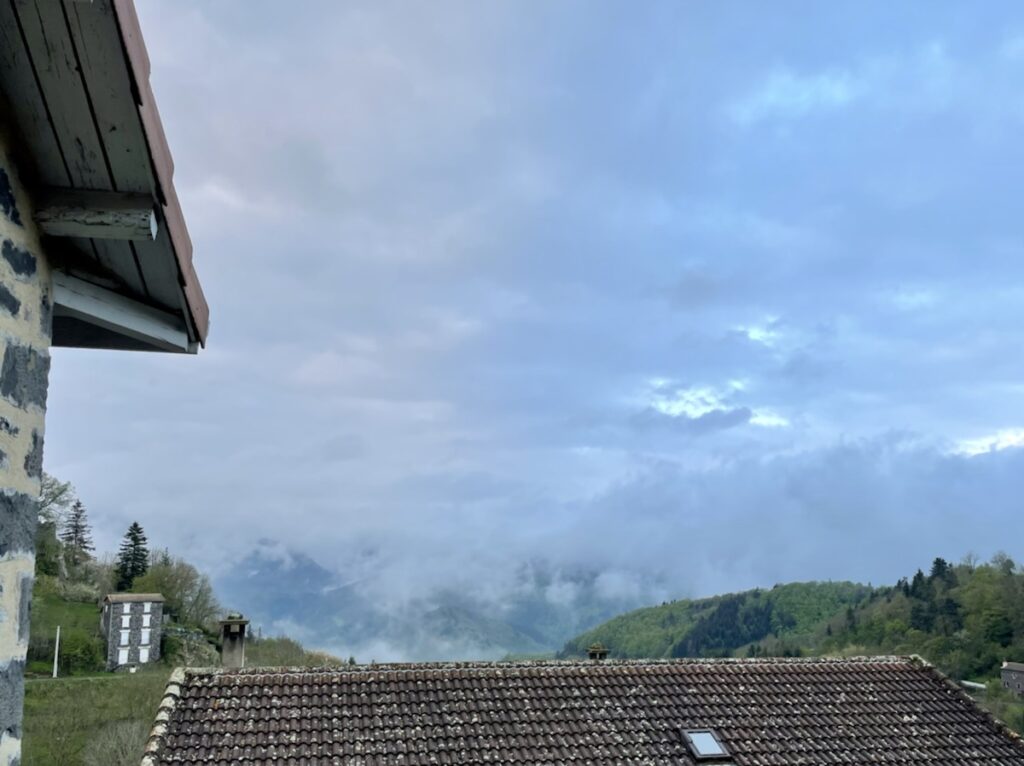 I ate everything they offered me for breakfast, learning from a mistake I made Thursday. After a bit of repacking, I set off around 8 am, and the weather wasn't much more promising.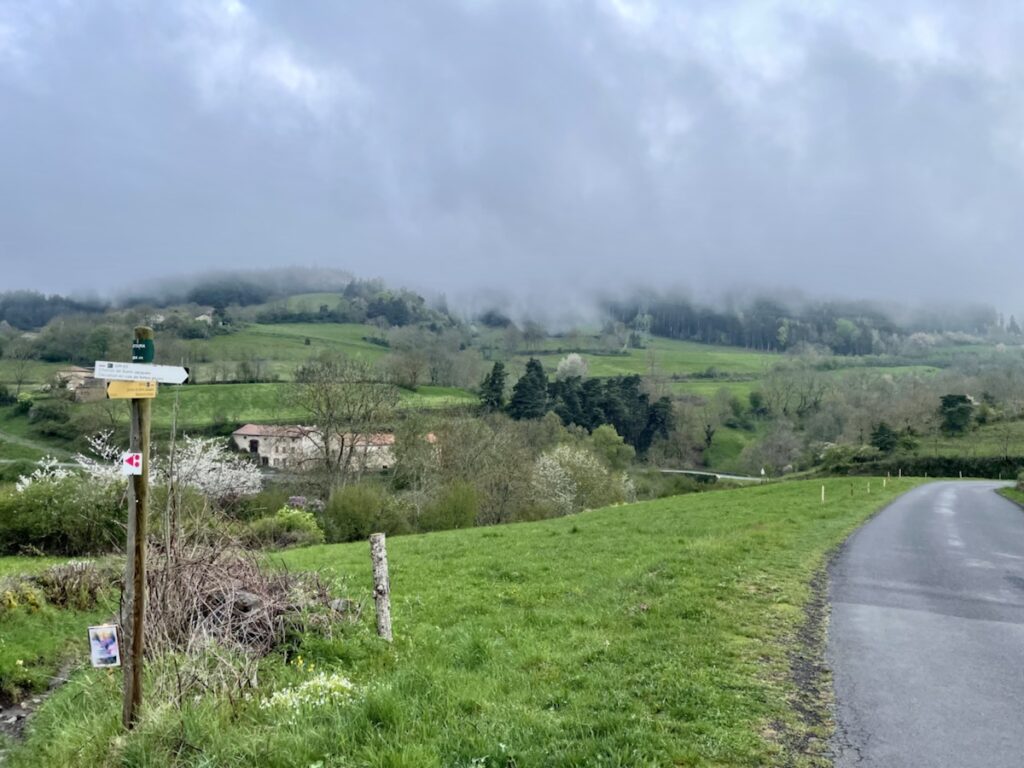 The previous evening at dinner, a fellow American told me he'd been researching the profile of the day's trail. It would start off mostly downhill, and then change to a steep uphill climb. To hear him tell it, you'd think the easy part would be at the beginning.
Spoiler: There was no easy part.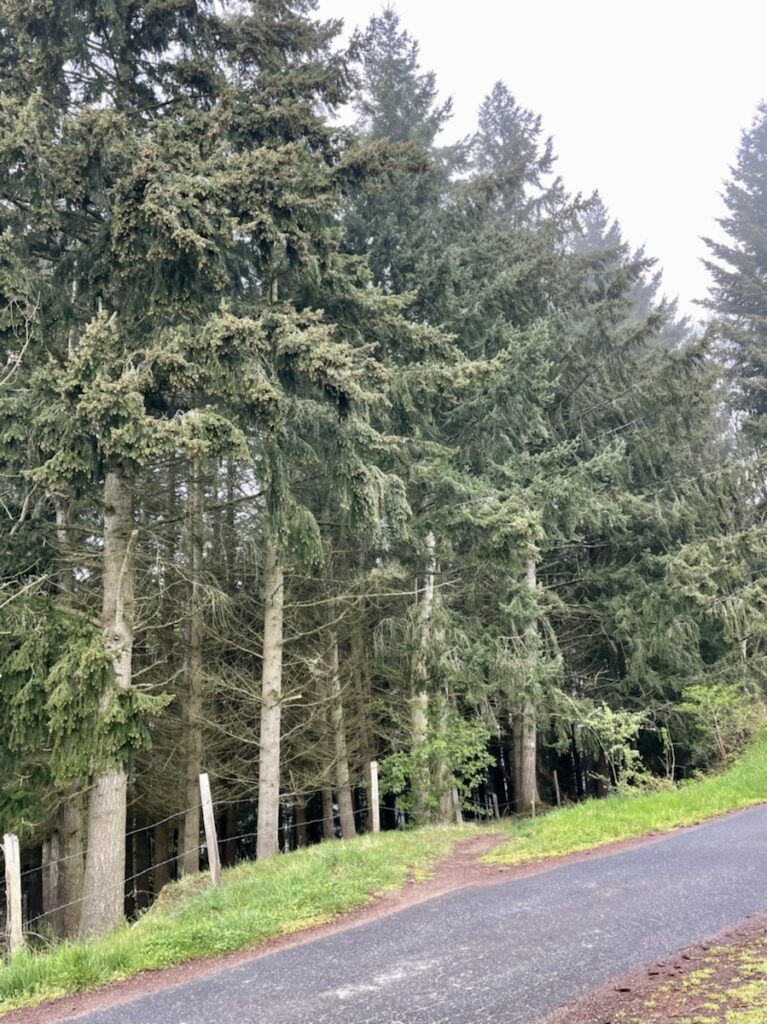 For the most part, I think the conditioning hikes I did in Phoenix over the last month have served me well. None of them, however, involved we walking down steep, mud-covered forest slopes. For the first time, I wished I'd brought poles. The descent was slow and hard on my knees, especially since my feet were planted on such soft ground.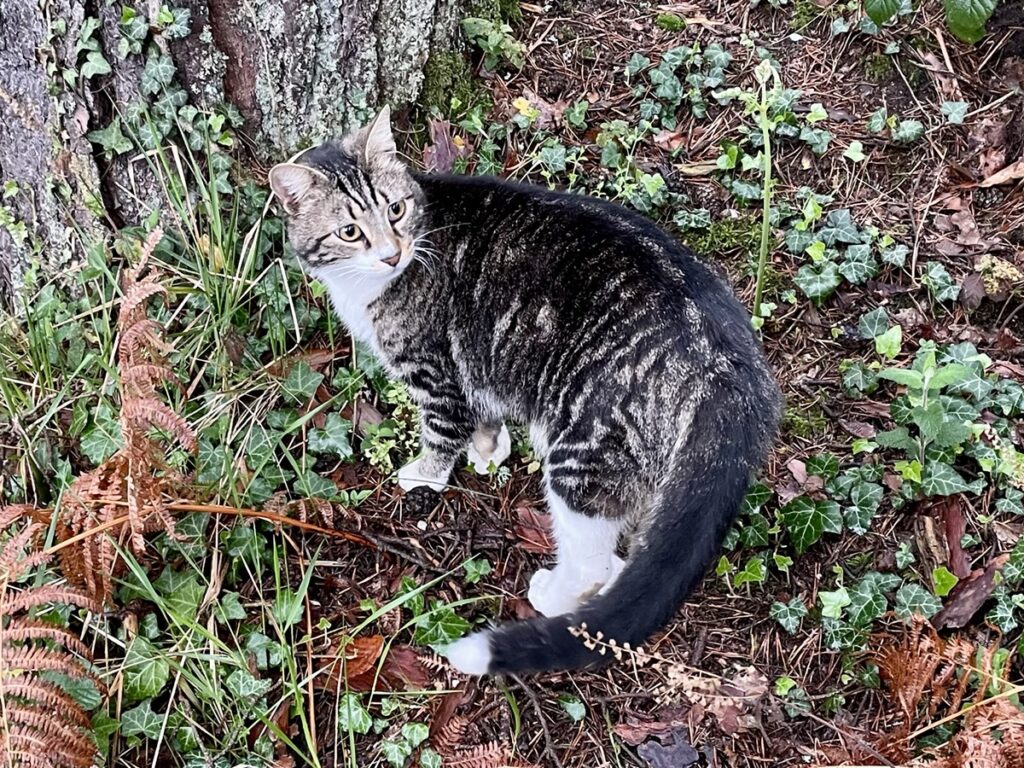 Eventually the forest gave way to cultivated land, and the trail became graded gravel or, in some cases, pavement. It was still downhill, though, until a largish village, Monistrol-d'Allier, appeared alongside a river, the Allier, in the valley below.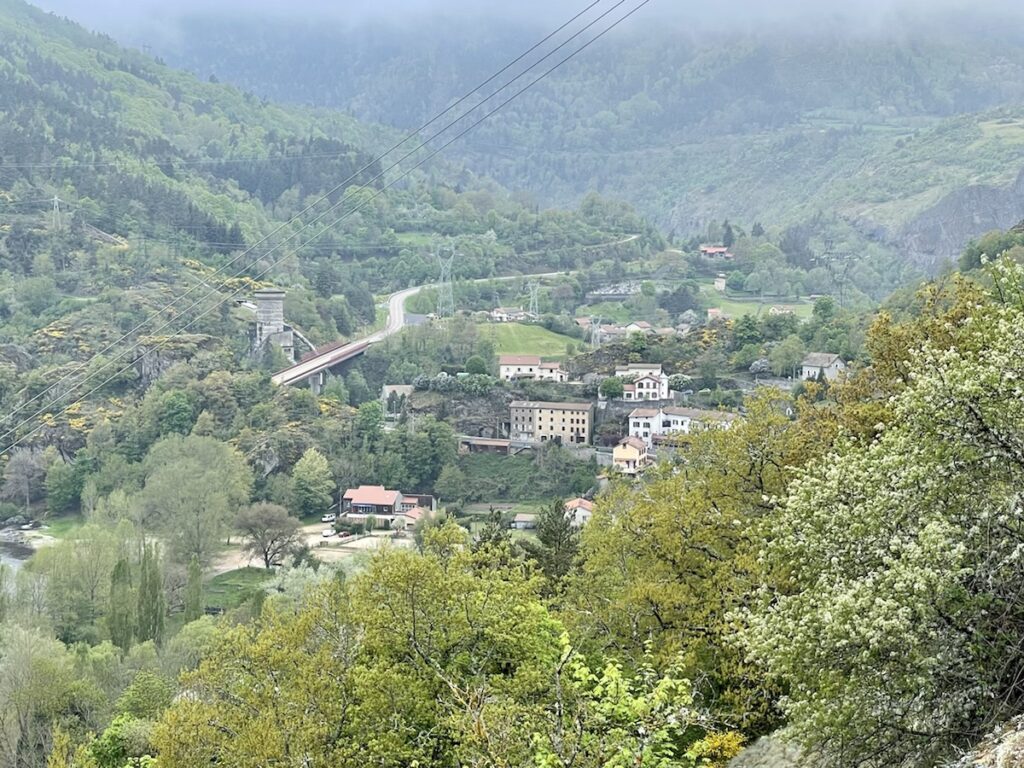 Eventually the trail crosses the Allier river over a steel bridge, and that's where the uphill part starts.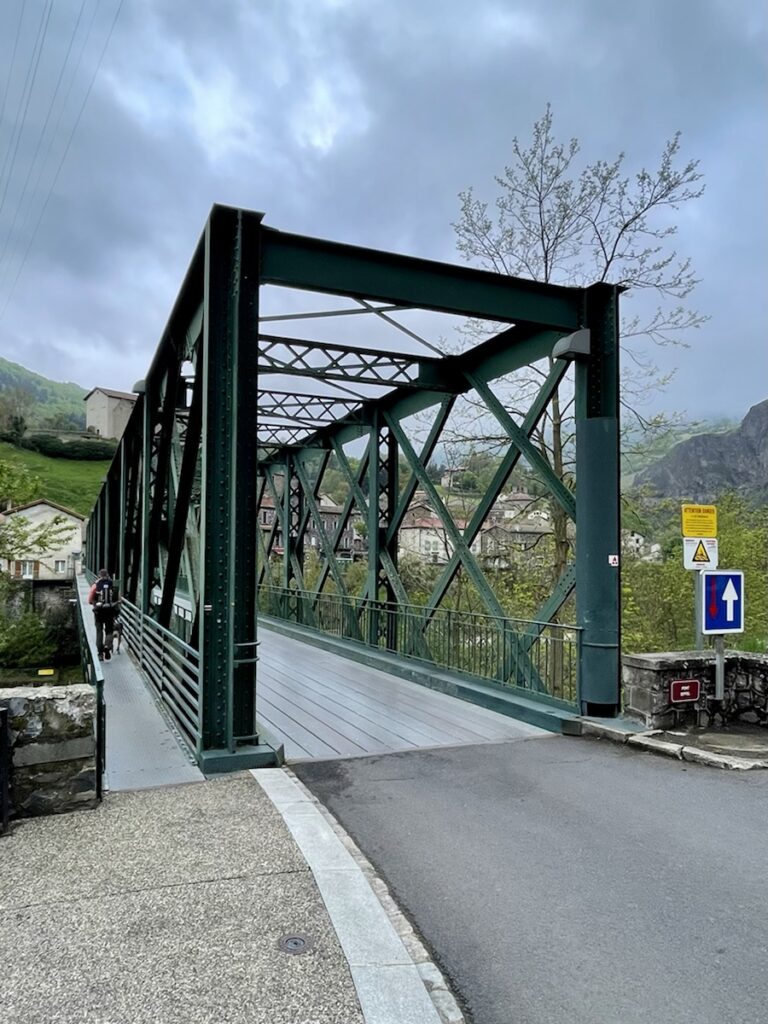 Up and up and up. Through more thick forest. For about another hour.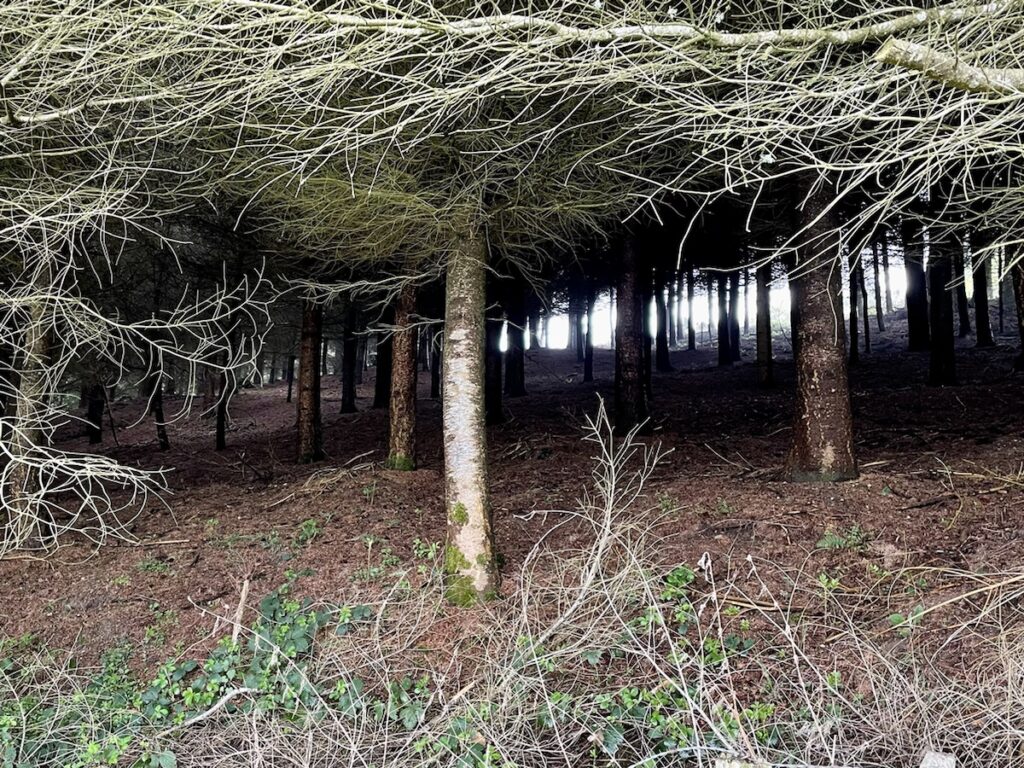 Finally, there was some relief. The forest opened up into rocky fields where sheep graze under the careful eyes of a sheepdog.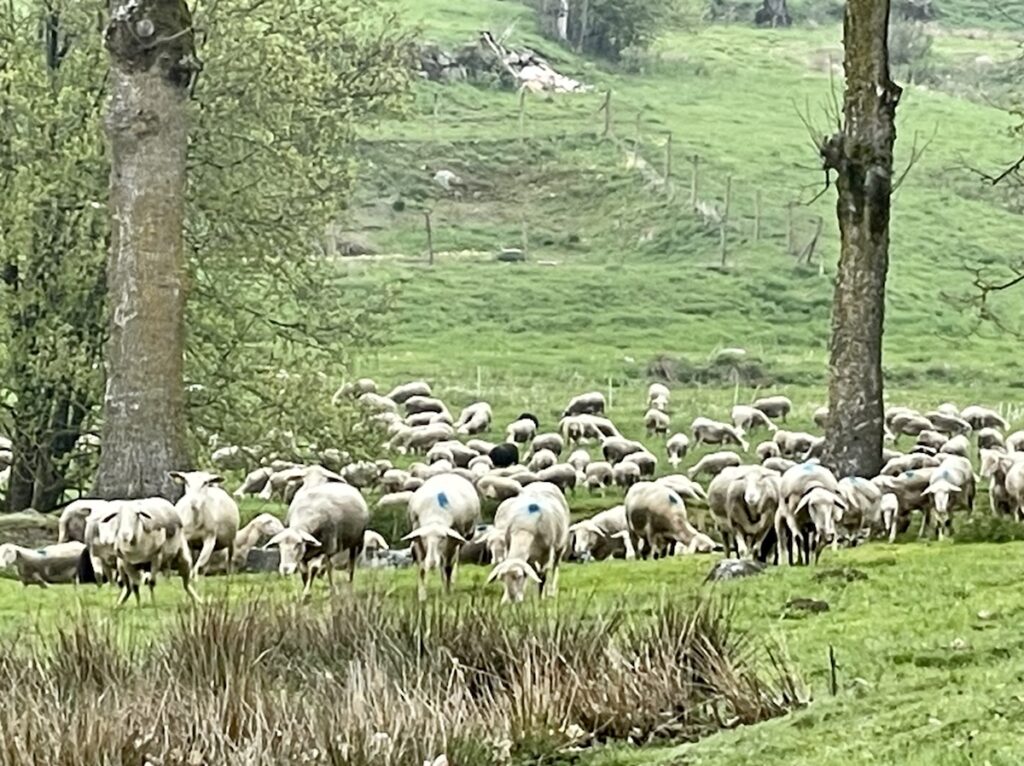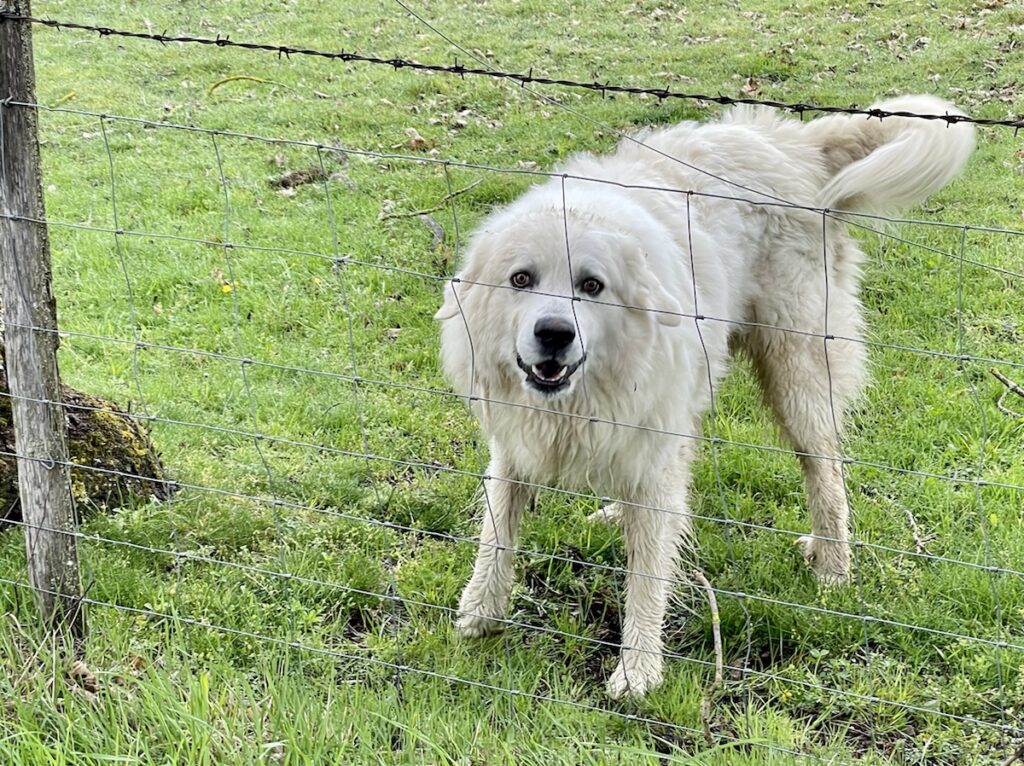 Just when I started thinking I needed to take an extended break, a little snack bar appeared out of nowhere. A little plate of sliced meat and bread and a cold beer made the rest of the day a little easier.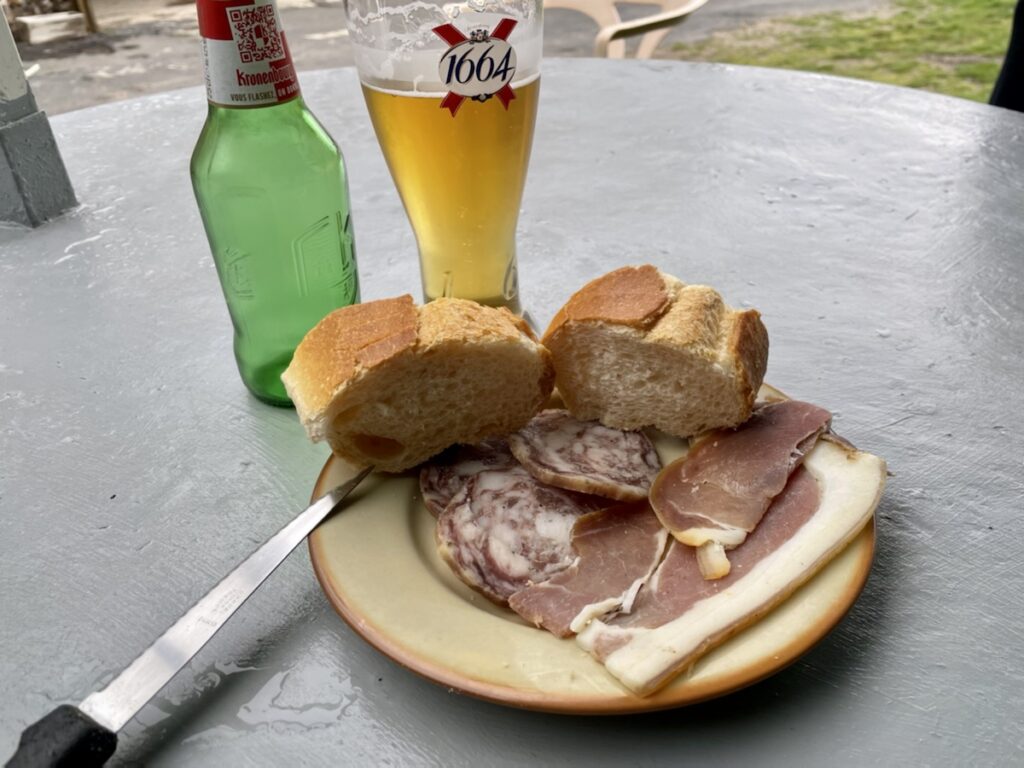 When I set off again after lunch, it turned out the hardest part was behind me. Although it wasn't exactly downhill, within about an hour, the town of Saugues, which was supposed to be my destination, came into view.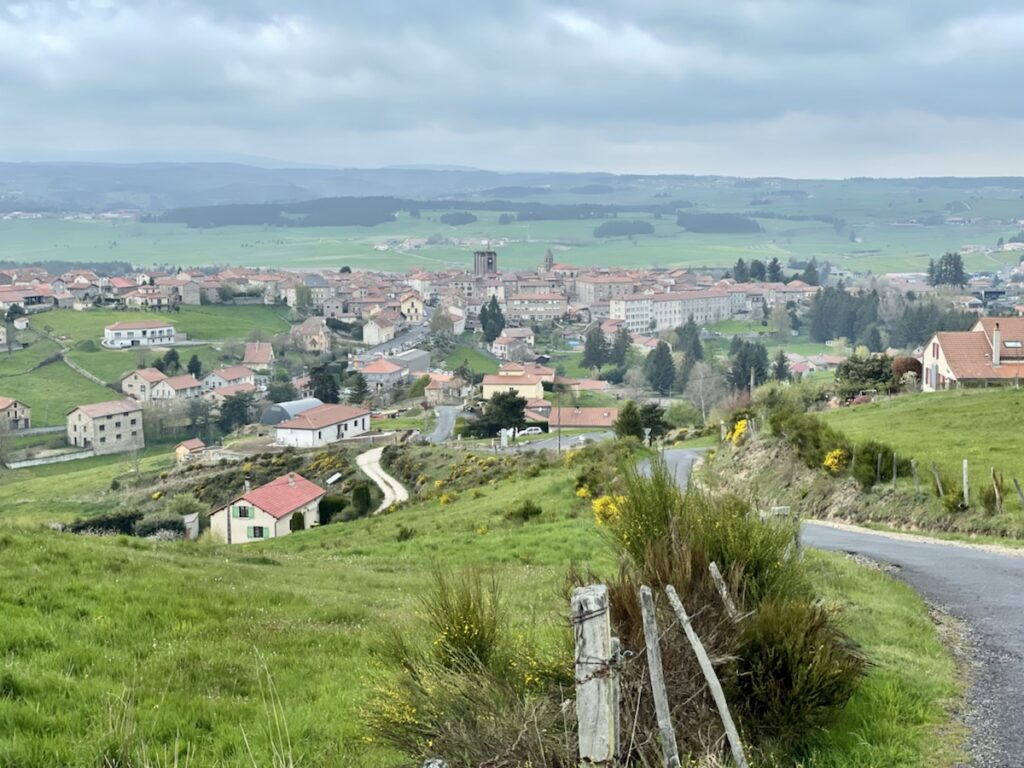 As I arrived in the center of town, it was about 1:30 pm. Most pilgrim accommodations don't start receiving guests until 4 pm. I didn't have a reservation, so I wasn't particularly attached to staying in Saugues, even though it's where most people finish their day after leaving Saint-Privat-d'Allier.
As exhausting as the day had already been, I really didn't like the idea of walking for another two to three hours any less than the idea of sitting around a town waiting for something to happen.
So I kept going.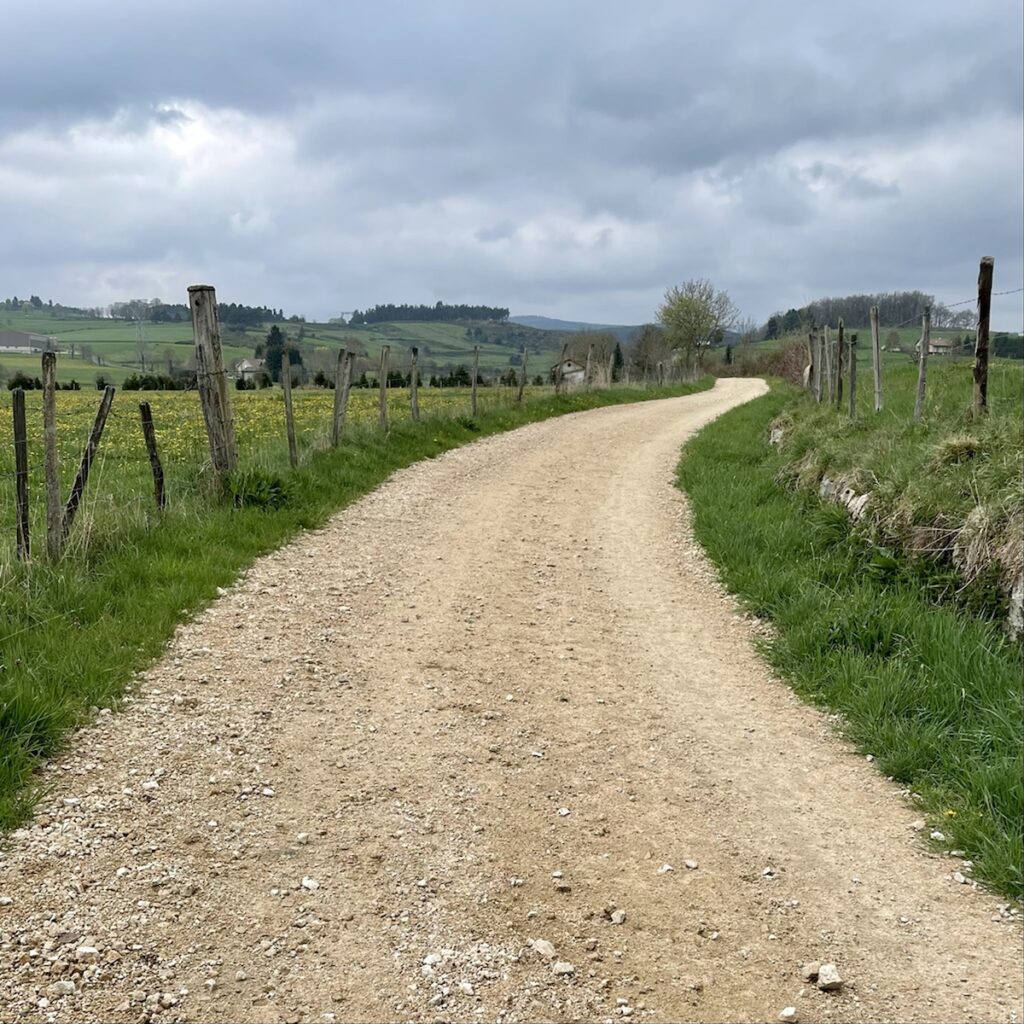 And going.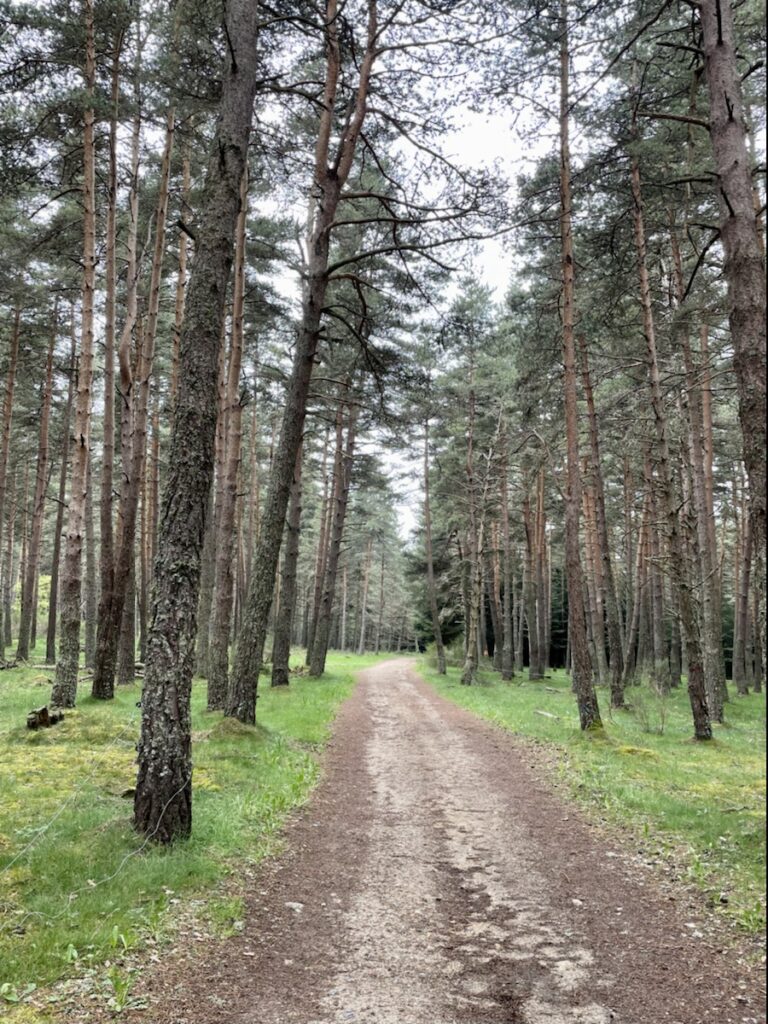 After leaving Saugues, I didn't see another pilgrim. At one point, I saw a group of about a half-dozen mountain bikers, but within a moment they were gone. For long stretches, I was totally by myself.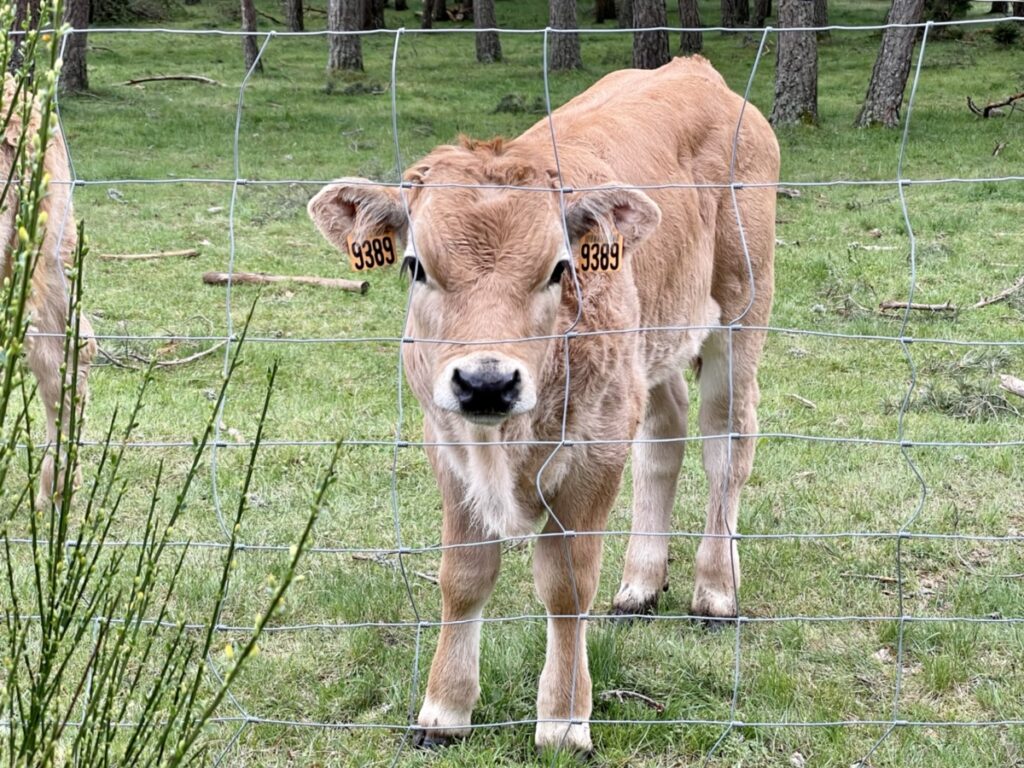 After coming out of the forest again, hamlet after hamlet, there was no sign of any accommodations whatsoever. Finally, a sign offering a gîte d'étape appeared just after 4 pm.
I asked the host about getting a bed, and he said he was full. I started to turn around and leave, but then I turned back and asked him if he knew anywhere else to stay. Immediately he got on the phone with another host … who was also booked up. I thanked him for helping, and he asked me to wait a moment. He flipped through his book and said he thought he had a solution.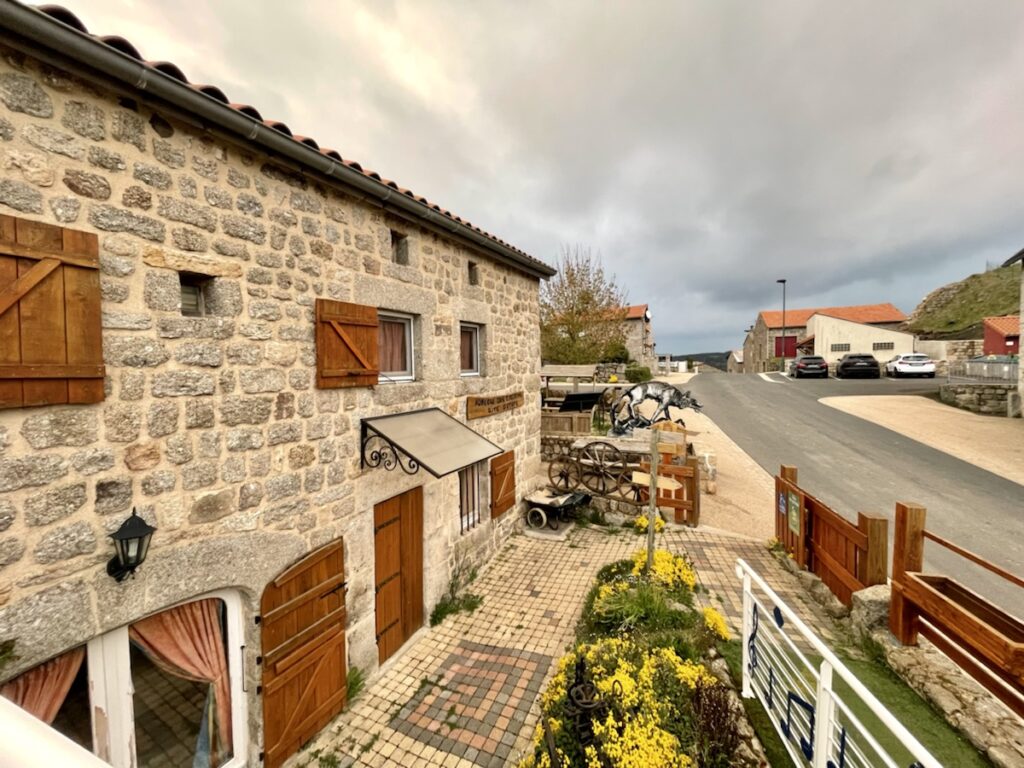 Apparently he had given a single traveler his own room because he was going to be using a CPAP. He double-checked with the guest, and then proposed the solution to me. I couldn't imagine the machine being any louder than the sound of traffic whizzing by my park bench, so I agreed. It turned out my roommate was a friendly, older French guy. We got along well, and I slept like a baby.
Distance covered Thursday: approximately 19.7 miles.