Tuesday's early morning departure from Condom started off well enough. The weather was pleasant, and the trail out of the city followed the river for a brief time, offering lovely scenery.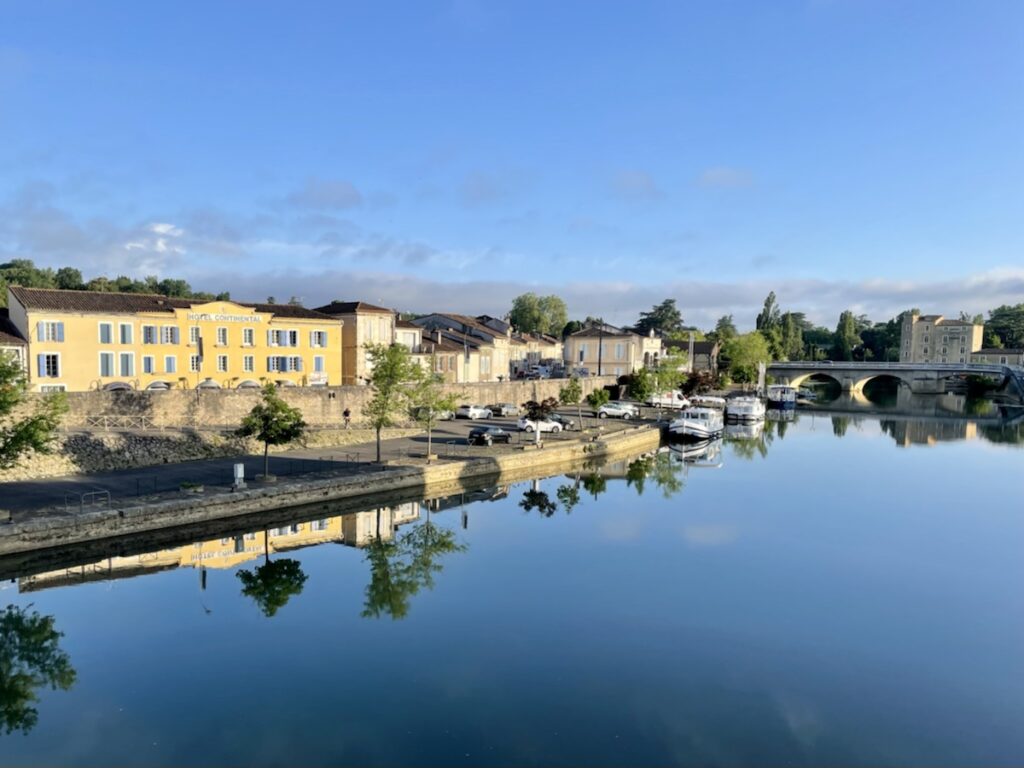 At some point, apparently while I was completely lost in my thoughts, the trail made a hard right turn. I, however, continued straight. For a long, long time.
I don't know how I missed the turn, but once I realized I'd done it, I deployed my figure-it-out-at-the-next-village strategy. This time, however, the best option would have been to return to the last known point where I was sure I was going the right way. The mistake cost me at least an hour and caused me to walk over three miles out of my way.
Eventually, I did rejoin the trail. I got back just in time to see the 1,000-km bridge, a medieval bridge that apparently is almost exactly 1,000 km from Santiago de Compostela. Of course, the metric system didn't exist when the bridge was said to have been built, so the distance is nothing more than a coincidence.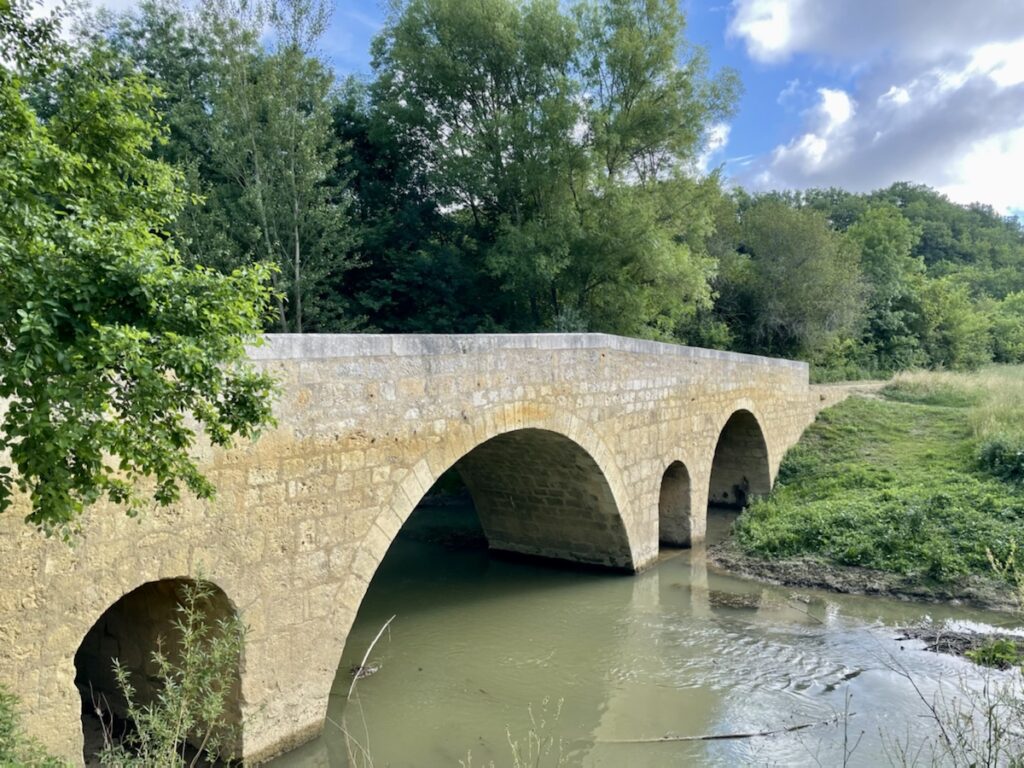 The weather being absolutely gorgeous that morning, I stopped about an hour short of Montréal and made a reservation for a gîte in Éauze. It was going to make Tuesday the longest day I'd walked so far, but I thought, why waste such beautiful weather.
When I reached Montréal at about noon, I was treated to a rather beautiful parish church, although it felt abandoned. There was a Paschal candle, which was appropriate for the season, except that it was marked with the year 2018.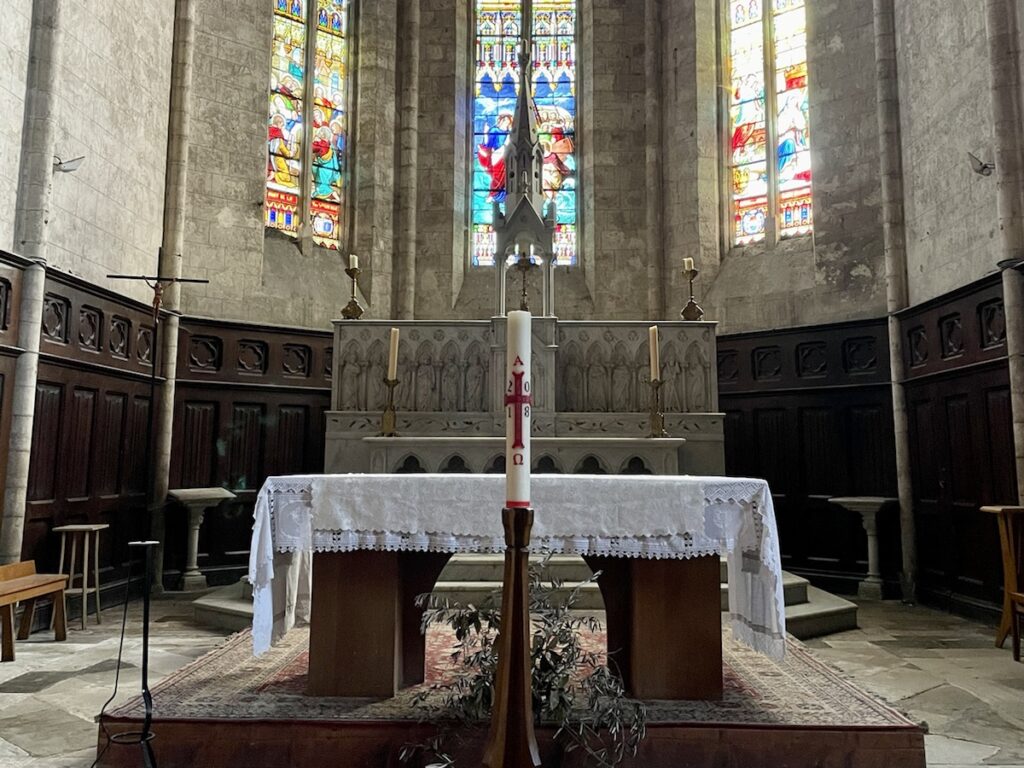 The main square in Montréal had a few places to eat, one of which looked promising. There was outdoor seating in an arcade with a nice view of the square, so I made myself at home and ordered.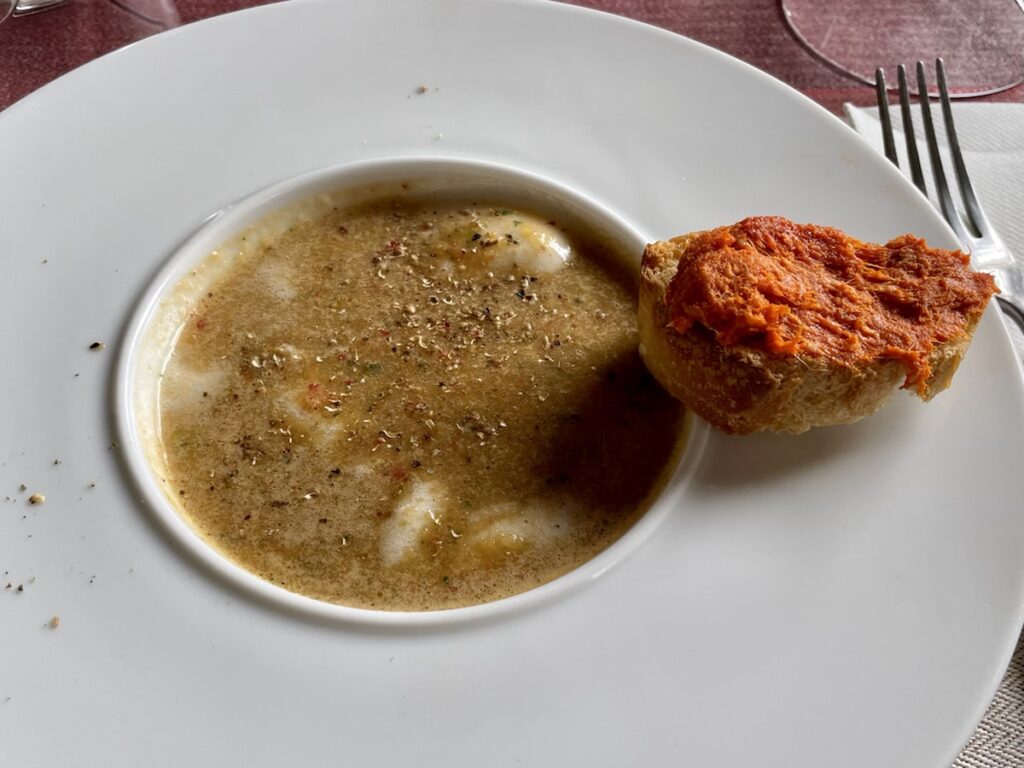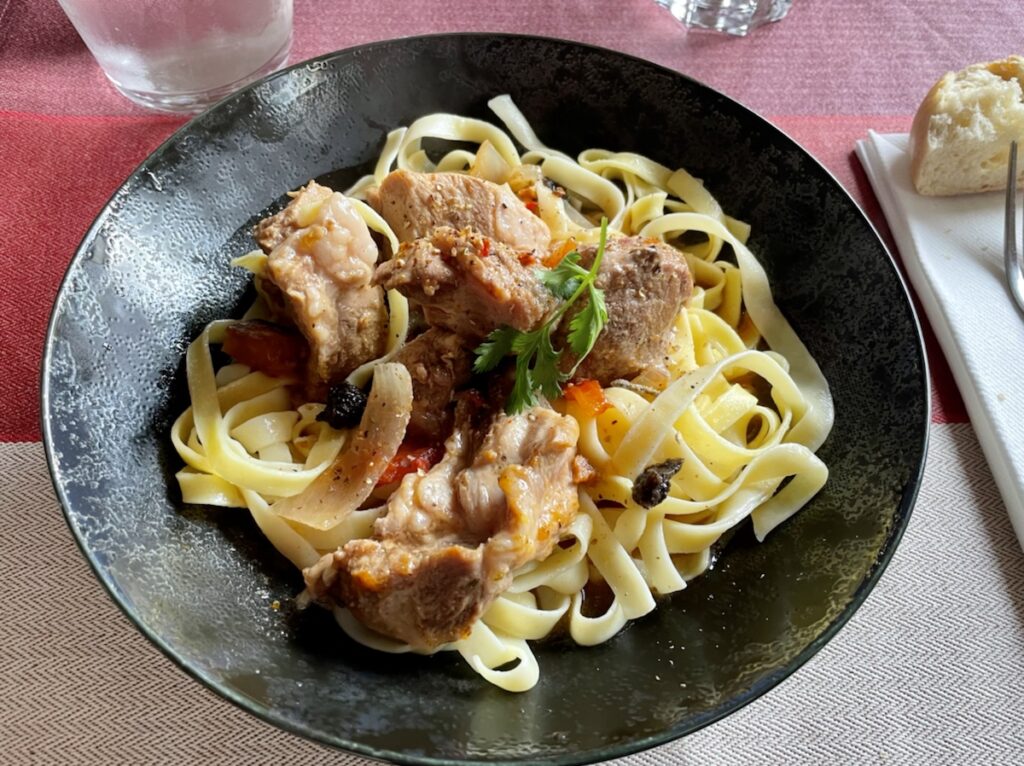 A few minutes later, it occurred to me that maybe I should have checked a weather forecast before committing myself to Éauze. Suddenly there was a chill in the air, the wind picked up, and it started raining. I threw on my sweatshirt and finished lunch, which was quite nice. The rain had mostly let up by the time I left the restaurant, but I spent the afternoon slogging through wet trails.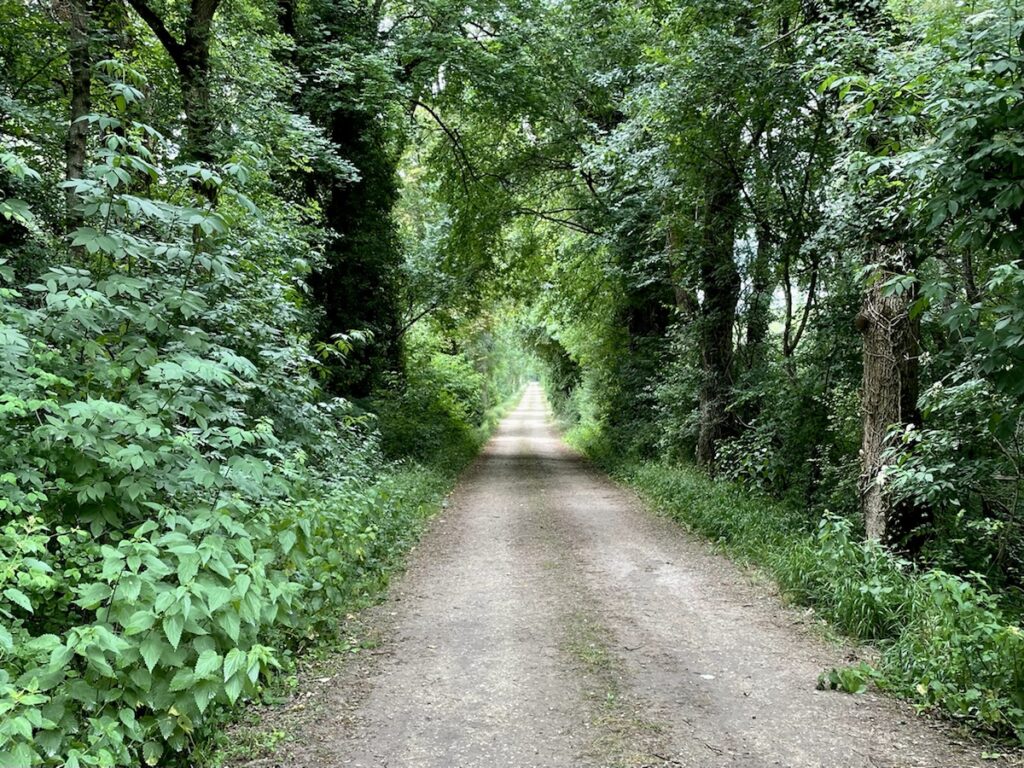 The only good news is that those trails were relatively flat. I was following along what was obviously a former railway line. Some of the railway signs had never been taken down, and I even saw a former passenger station that was now somebody's home.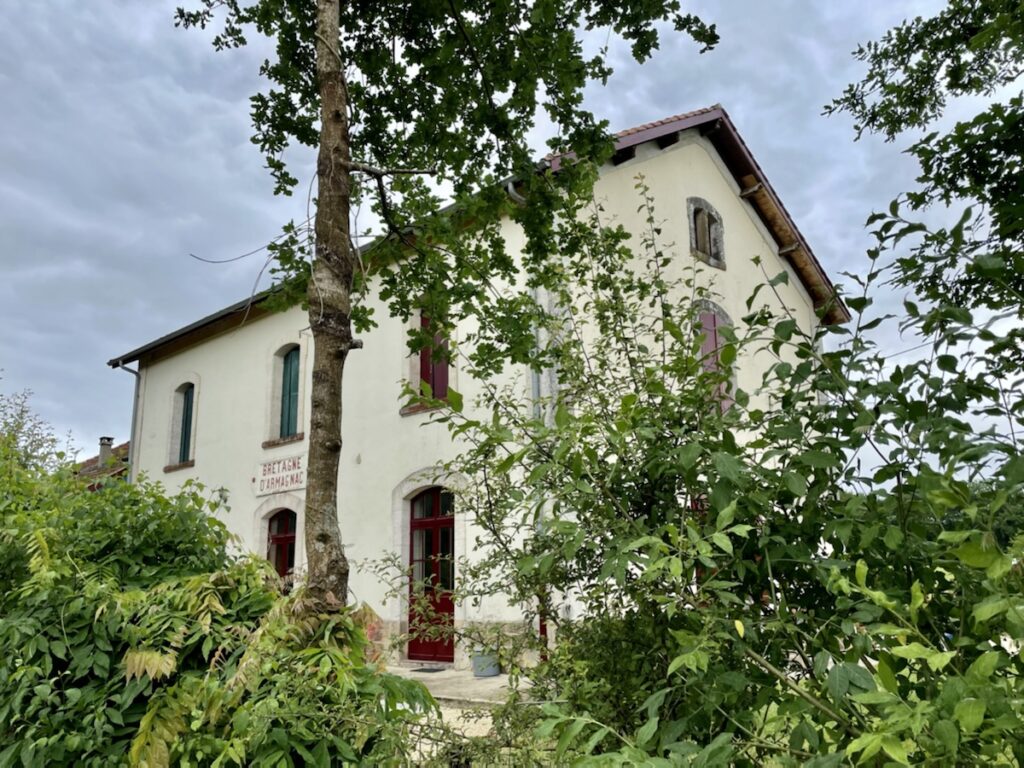 A slurring worker heading home with a six-pack under his arm congratulated me and told me I only had 900 km to go. I think he had miscalculated. That was my welcome to Éauze.
I met Babar for a beer shortly after I arrived. He was staying at a different gîte that night. His plans for the next several days were considerably more aggressive than mine. I wished him well and asked him to keep in touch, not expecting to see him again.
Approximate distance walked Tuesday: 23.5 miles.
After the rough day I had Tuesday, I decided that Wednesday was going to be a chill day. I planned a relatively short walk to Nogaro, followed by a hotel stay, where I'd do nothing but relax, watch TV, and maybe write some blog posts.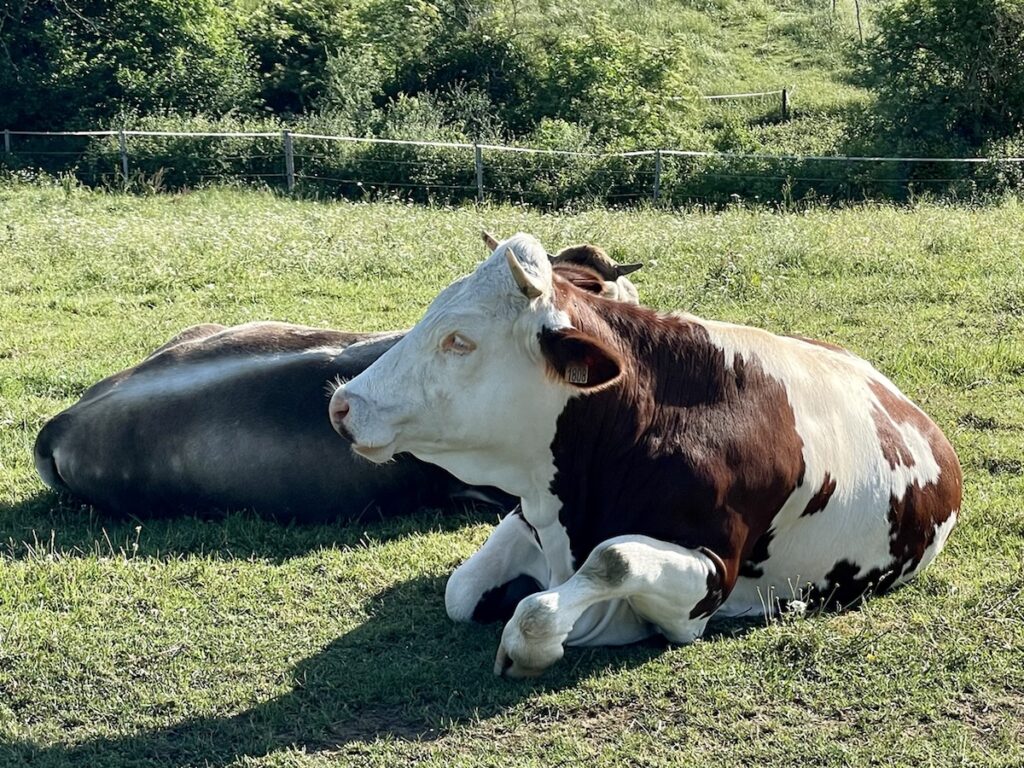 The morning walk was actually quite pleasant. Lots of beautiful countryside, including vineyards where one would assume the grapes would eventually become armagnac, one of the notable exports from this area. Crossing the Greenwich Meridian — mentioned in an earlier post — was a nice surprise.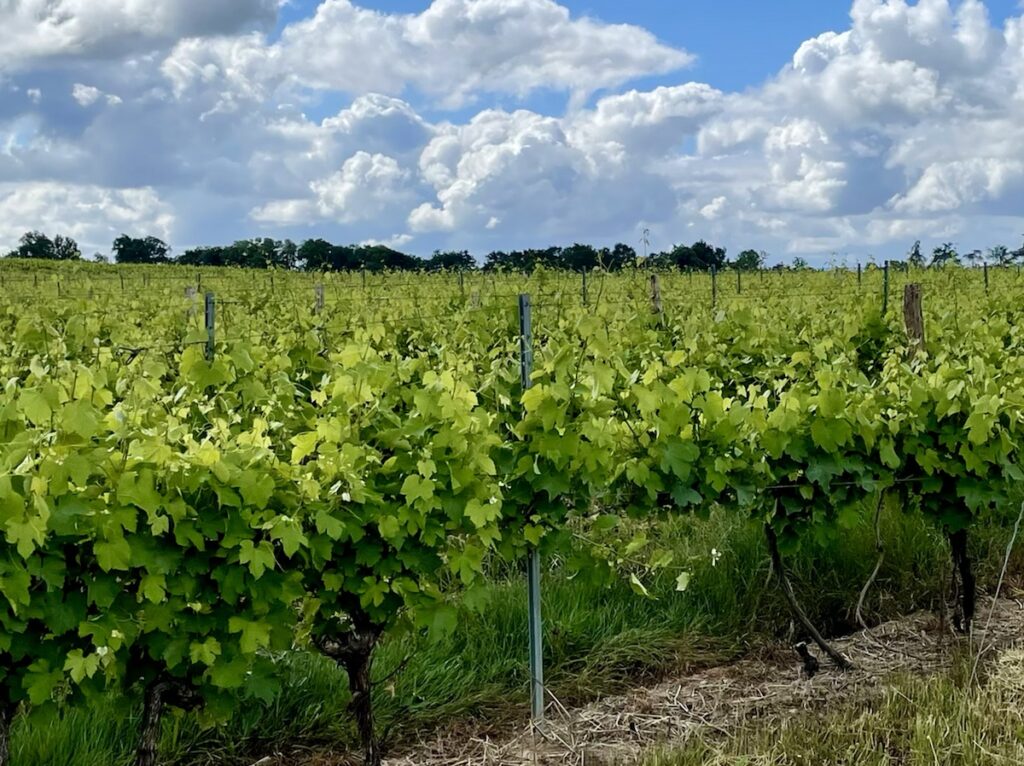 I arrived in Nogaro right at lunchtime. I'd been hankering a burger for a while, and the place next to my hotel had some specialty burgers on the menu. I ordered one that sounded good based on the description, and it looked even better when it arrived.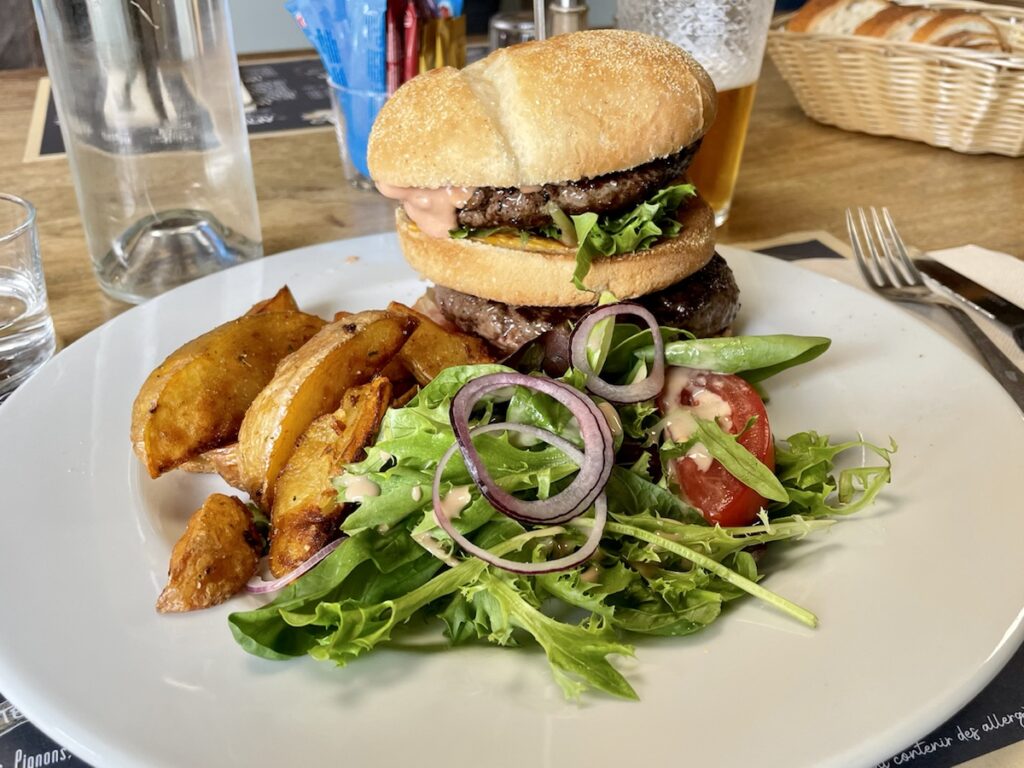 Now, I'm not necessarily blaming the burger for what happened next, but about halfway through lunch I started to feel sick to my stomach. When I finished, I went directly to the hotel, where mercifully my room was ready. I had a shower, and spent the next sixteen hours in bed, much of which involved a shivering, cold sweat.
As far as watching television went, there really wasn't much on, so I ended up watching several dozen episodes of Un gars, une fille, which was possibly better than nothing. It was either that or watch 24-hour news channels spouting off about a school shooting in Texas.
(As an aside, I want to congratulate whoever translated the Second Amendment into French for BFMTV. He or she has a better grasp of English grammar than the average American social media pundit.)
I didn't even attempt to eat dinner. That should tell you everything you need to know about how sick I felt.
Approximate distance walked Wednesday: 13.2 miles.