Kathryn and I have been traveling back and forth to France a lot over the last 15 months, and I figure it's time to share why.
Long story short: We bought an apartment in Montpellier, a city in the south of France.
It's something I've wanted to do for a long time — close to 20 years, really — and over the last several years, it's an idea that Kathryn has embraced as well. Our several visits to Montpellier together over the past several years have done a lot to persuade her.
Our trip in November 2021 was the first where we started to turn the thoughts of buying an apartment into action. The goal of that two-week trip was to start lining up professionals. I didn't expect it to be easy, and it wasn't as easy as I expected.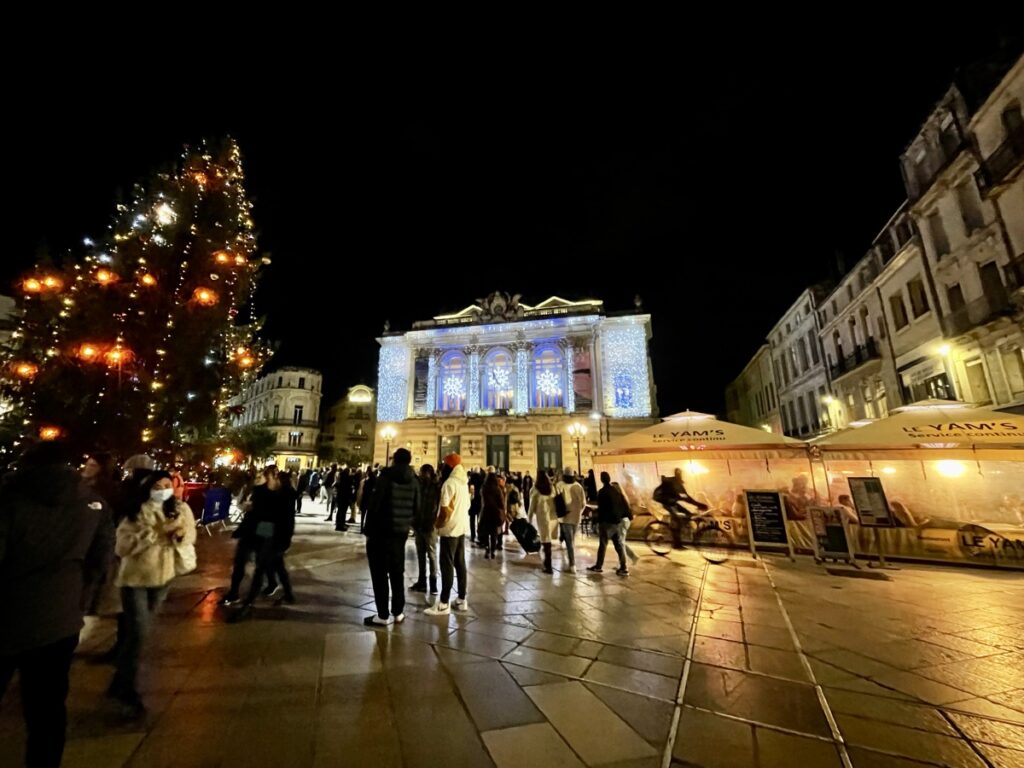 The first person we met was a notaire. She would properly be called a civil law notary in English, but as an American, I'm accustomed to the word notary having a meaning that's very different from someone who does work that, in my native land, would properly be done by a lawyer. To keep it simple, I'll just use the French word as if it were English.
All real estate transfers in France happen in a notaire's office, so we figured it was better to get to know one right away. She gave us a free consultation that was nearly an hour long, and it proved to be very helpful. She will also be the one who prepares wills for us — something we still need to do — as she advised us our U.S. estate planning may not have much effect on the disposition of our French property.
The notaire also pointed us in the direction of a reliable real estate agent, who has really been our guide through this whole process. There's nothing like a multiple listing service in France, and agents seem to guard their listings rather jealously. From what I understand, as a buyer, you're typically expected to deal directly with the seller's agent for each listing. However, because we're foreigners, this agent offered to do the research for us, dealing with each seller's agent individually to negotiate a split of the commission. It ended up paying off for her, since her company ended up with half of the commission for a listing that wasn't theirs.
The only issue was that the real estate agent speaks no English. I spent a lot of time trying to translate between her and Kathryn.
The hardest part was the one I thought would be the easiest: finding a bank. While, in theory, it would have been possible to do all this without a French bank, it would have been impractical. Sure, we could have made wire transfers from our financial institution in the U.S. directly to the escrow account of the notaire, but we'll have taxes, contractors, utility bills, and so on to pay on a regular basis. All these invoices will need to be paid in euros, either by check or, more commonly, by electronic transfer. Having a local bank account has already made things much easier.
After several banks refused to answer my e-mails, I finally gave up and walked into the nearest branch of a bank suggested by both the notaire and the real estate agent. At that point, we were running out of time, and we explained to the receptionist that we were returning home in just a few days. Apparently, that got someone's attention. After about 48 hours of back and forth with various forms — including an IRS form that seemed quite out of place when opening a bank account in France — we finally met with our bank counselor. After another half-hour of signing forms, at almost 4 pm on the last business day we'd be in France, we finally had an account number.
Since then, our trips to Montpellier have been to look at apartments. The reality is that, at any given time, there's not much inventory on the market that would check all of our boxes and fit within our budget. We prepared ourselves to make several short trips to find the right place.
In September, we finally found it.
Amazingly, the apartment is in a pleasant neighborhood that we'd never visited, just a few minutes' walk from the city's iconic main plaza. It's the first floor off the ground — what we would call the second floor in the U.S. — has one bedroom, and has a lot of light through two large patio door windows that lead to a narrow balcony that spans the width of the apartment. It doesn't need any serious renovation work, and it's in a charming late-19th-century building that's well maintained. It's literally upstairs from a bakery, and it's a one-minute walk from a grocery store, a bar, a butcher shop, a produce vendor, a newsstand, two pharmacies, several restaurants, and a church.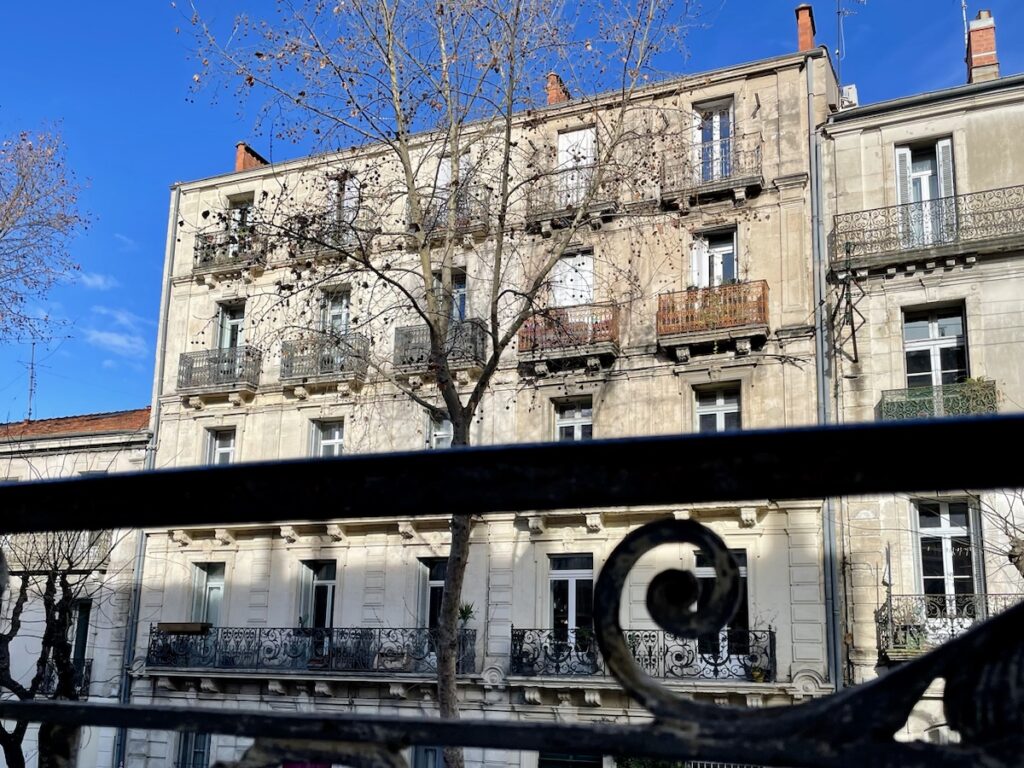 Next came the usual back and forth negotiating the price. In the process, we agreed to accept the last price asked by the seller if he included all the appliances in the kitchen. The negotiation process ended with a non-binding letter of intent, which spelled out the high-level terms that would later form a binding purchase and sale agreement.
Unfortunately, at least one of us would have to come back to Montpellier to sign the agreement, and it had to be done relatively quickly. Since I wasn't otherwise employed at the time, and since it would be a quick in-and-out trip, and since we didn't both have to be there, we decided I would go back by myself. So I bought the tickets for my short October trip about the same time we got home from the September trip.
Signing the purchase and sale agreement, which is considered the most important step, was surprisingly quite painless. The seller decided to sign by power of attorney, so he wasn't present, although his agent was. There was an interpreter present to help me translate French to English, although she was only rarely needed. After I returned home, we wired the earnest money to the notaire's escrow account. At that point, the seller, Kathryn, and I were all on the hook.
One of the peculiar things about this transaction is that, for certain real estate transfers in France, the city has the right of first refusal, and it has that right for two months. Therefore, until mid-December, the deal was in a holding pattern.
As soon as the hold was over, the seller pleaded with the notaire and his agent to encourage us to close in late December. The contract stipulated that we had until January 15 to close, a date I requested specifically because we knew it was going to be tough for Kathryn to get time off from work over the holidays. We had been targeting the first week of January. After a few e-mails back and forth, we told them we would close on January 3, and reminded them that we were under no obligation to close earlier.
Which leads us to the present.
We arrived in Montpellier on New Year's Day. We had a reservation for four nights in a short-term rental apartment that was just a couple minutes' walk from the apartment we were buying.
We arrived a couple days early because we expected closing day to be somewhat stressful. And we were right.
At 3:30 pm, we were scheduled to do a final walk-through of the apartment and read the meters in anticipation of the closing with the notaire, scheduled for 5 pm. When we arrived, we were surprised to find that the owner — the same owner who, a month earlier, had asked if he could close in December — was still removing his belongings from the apartment. Since the seller was expected to give all his keys to his agent at the end of the walk-through, what should have been a quick 15-minute stop took significantly longer.
I mostly took it in stride. Kathryn took it somewhat less well but seized on the opportunity to pick up a few useful pieces of furniture for free. She walked around the apartment with the seller's agent, pointing at items and saying oui or non — mostly non. Among the items we received was a rather hideous lampshade. I told our agent, it's ugly, but it'll do for now. We left it on the curb as soon I could figure out how to take it down without damaging the fixture or hurting myself.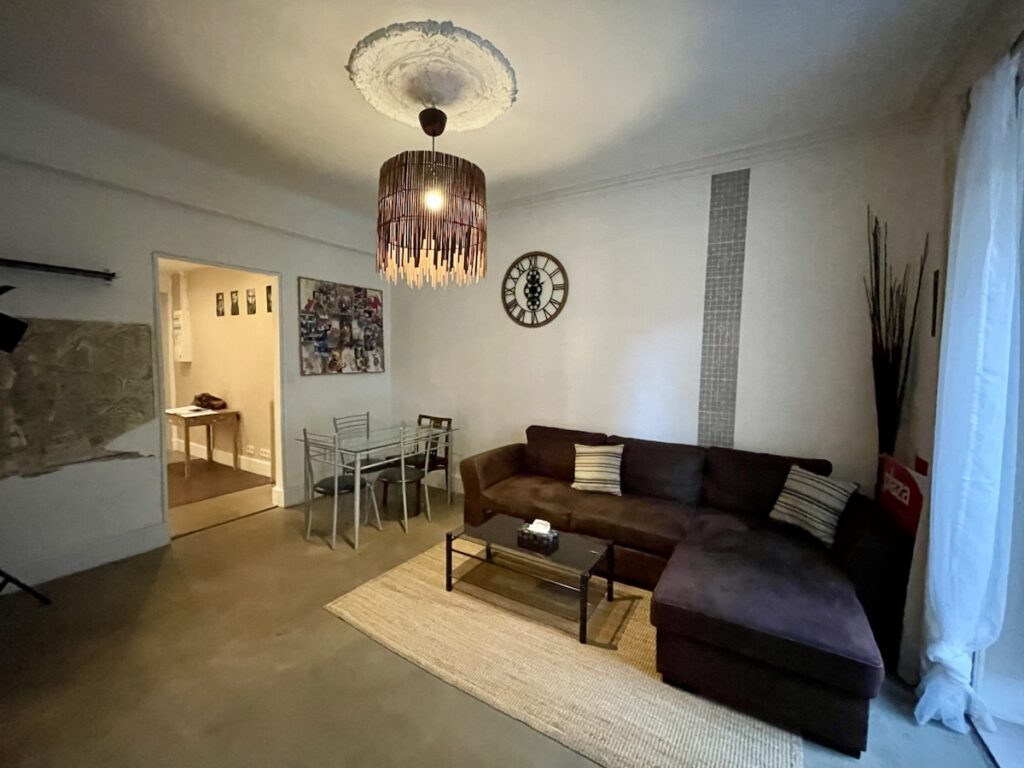 I originally wrote the situation off as a matter of being on French time. However, we quickly discovered that the others in the room were even less amused than Kathryn and I.
The seller's agent and his assistant had to spend their entire day dealing with this one client. The assistant took the brunt of it, basically having to help the seller clean his apartment. She was so angry that her boss asked her to skip the closing. She apologized to Kathryn and me when she came by the next day to retrieve the for-sale sign.
Our agent had to get involved as well. At first, the seller claimed he couldn't find a single key for the mailbox. Our agent called a trusted locksmith who produced an estimate for same-day service to replace it. Once he saw the quote of nearly 120 euros, he magically found a key.
Finally, around 4:20 pm, we all agreed that the walk-through was done. The seller handed his keys over to his agent, and we all headed over to the notaire's office for our 5 pm appointment to sign the final papers. It was about a 10-minute walk away through the city's pedestrian streets, but our agent had brought her car, which turned it into a half-hour drive. We rode with the agent, who used the time as an excuse to thank us with a nice bottle of local wine.
In hindsight, we probably should have opened the wine right then.
We were all present at the notaire's office at 5 pm, with one notable exception — the interpreter. The receptionist let the notaire know the buyers were present, madame and monsieur, and we waited.
And waited.
Finally, a little after 5:30 pm, the notaire called us all into her office for the closing. A meeting that was late getting started took even longer than it should have. The seller apparently hadn't bothered to review the numbers the notaire's assistant had sent both of us, so he decided to quibble over nearly all of them. Ironically, he was then the one to complain about how long the meeting was taking. He apparently had a long drive ahead of him that evening.
Our agent and the notaire have known each other for years, so we found out the next day why the meeting started so late.
When I was in Montpellier in October to sign the purchase and sale agreement, I came by myself. Based on that meeting, the notaire made the decision that monsieur had sufficient knowledge of French to sign the final document without an interpreter present. Somehow, she forgot that madame would also be present — even though it was stated explicitly in the draft of the contract. The notaire speaks English rather well, but, like me, she needs help with technical language. When the receptionist announced that Kathryn and I had both arrived, she panicked and spent a half-hour looking up technical terms in English on Google before calling us all into her office.
Regardless, when we finally left the office, Kathryn and I were legitimate property owners in France. In addition to our electronic copy of the authentic act of sale, we had an official hard-copy letter from the notaire attesting to our ownership. The letter has already secured us one tangible resident benefit: cards allowing us free use of local public transit on weekends.
As I'm writing this, it's three weeks after the closing. The closing was a turning point, but certainly not the end of this real estate adventure. Starting the next day, we had to start re-prioritizing what work we thought would be necessary in our new apartment.
More about that in future posts.